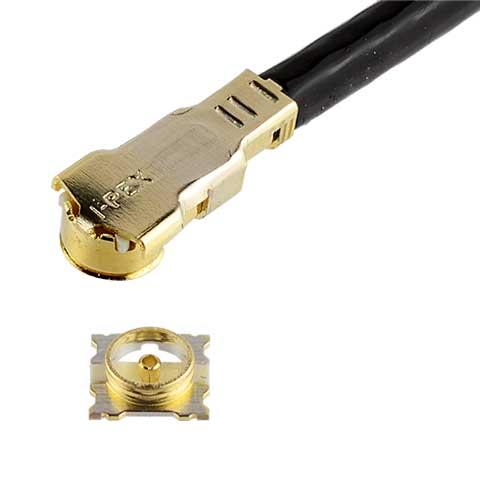 Excellent EMC performance with fully-shielded design, ideal for 5G mmWave applications, VSWR 1.5 max at 15 GHz in small 2.0 x 2.0 mm footprint
Unique shielded design (ZenShield®) reduces unwanted EMI found in 5G mmWave applications

Small form factor with max VSWR 1.50

Industry-first stripline terminated signal pin inside receptacle ground contact
Micro-Coaxial Cable (AWG):
Downloads
---
Unique shielded design (ZenShield®) reduces unwanted EMI found in 5G mmWave applications

Small form factor with max VSWR 1.50

Industry-first stripline terminated signal pin inside receptacle ground contact

Product Type
Height
SMT Size (mm)
Micro-Coaxial Cable (AWG)
Frequency range
V.S.W.R.

VSWR (DC~3GHz) 1.3

VSWR (3GHz~6GHz) 1.35

VSWR (6GHz~9GHz) 1.40

VSWR (9GHz~12GHz) 1.45

VSWR (9GHz~15GHz) 1.50

Applicable Standards (Reference Only)

5G mmWave(~15GHz)

5G sub-6

IEEE802.11 b

IEEE802.11 a

IEEE802.11 g

Wi-Fi 4

Wi-Fi 5

Wi-Fi 6

Wi-Fi 6E

WiGig

LTE/LTE-Advanced

LPWA

Bluetooth

GPS

Full shielding (ZenShield®)
Mechanical lock
RECOMMENDED PART NUMBERS
Please contact us if you cannot find the needed part number(s) from the list below.
*The MHF 7S is offered as our MHF 7S harness assembly only.
  Please specify harness assembly specification (single-end or double-ended, cable size, length, color).
MHF 7S RECOMMENDED PART NUMBERS
| | |
| --- | --- |
| Part Number Description | Part Number |
| MHF 7S PLUG O.D. 1.13 mm (Offered as harness only)* | 20980-001R-13 |
| MHF 7S RECEPTACLE | 20981-001E-02 |
SAMPLE HARNESS FOR EVALUATION
| | | |
| --- | --- | --- |
| Part Number Description | Harness Length | Part Number |
| MHF 7S-7S CABLE 113-1 | 100 mm | 8-22-0127 |
| MHF 7S-7S CABLE 113-1 | 150 mm | 8-23-0117 |
| MHF 7S-7S CABLE 113-1 | 200 mm | 8-21-0046 |
SMA Adapter

Usage (Durability Cycles)

Part Number

Plug

Electrical Performance Check

91255-0001

Voltage Check

91245-0001

Receptacle

Electrical Performance Check / 2.4 (500) 

91107-0001

Electrical Performance Check / SMA (500)

91256-0001

High Cycle / Narrow Pitch / With floating function (10K)

91145-0001

High Cycle / Narrow Pitch / Without floating function (10K)

91136-0001

High Cycle / Narrow Pitch  / Wire / 2.4 (100)

91137-J300

High Cycle / Narrow Pitch  / Wire / SMA Plug (100)

91197-300P

High Cycle / Narrow Pitch  / Wire / SMA Jack (100)

91197-300J

Hand Tool

Part Number

Mating / Unmating Tool 

91186-0001