Contents : 
---
1) What is 5G?
2) 5G Requirements
3) 5G Frequency (Carrier Wave)
What is 5G?
---
The standard for mobile communication systems changes about every 10 years, and the 5th generation standard is 5G (5th generation mobile communication system). 5G, which has more functionality than 4G, will contribute to the realization of IoT where everything can be connected through the internet.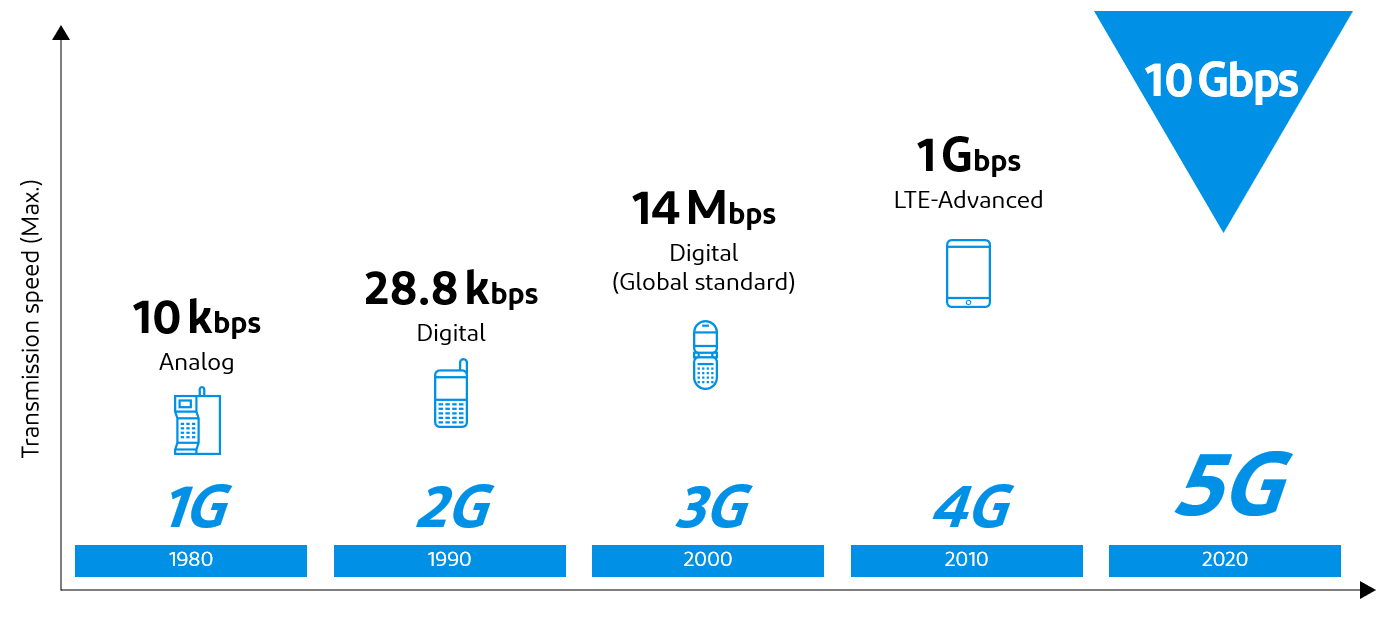 5G Requirements
---
According to the "IMT Vision (M.2083)" announced by the ITU (International Telecommunication Union), enhanced mobile broadband, ultra-reliable and low latency communications, and massive machine type communications are recommended as typical usage scenarios for 5G.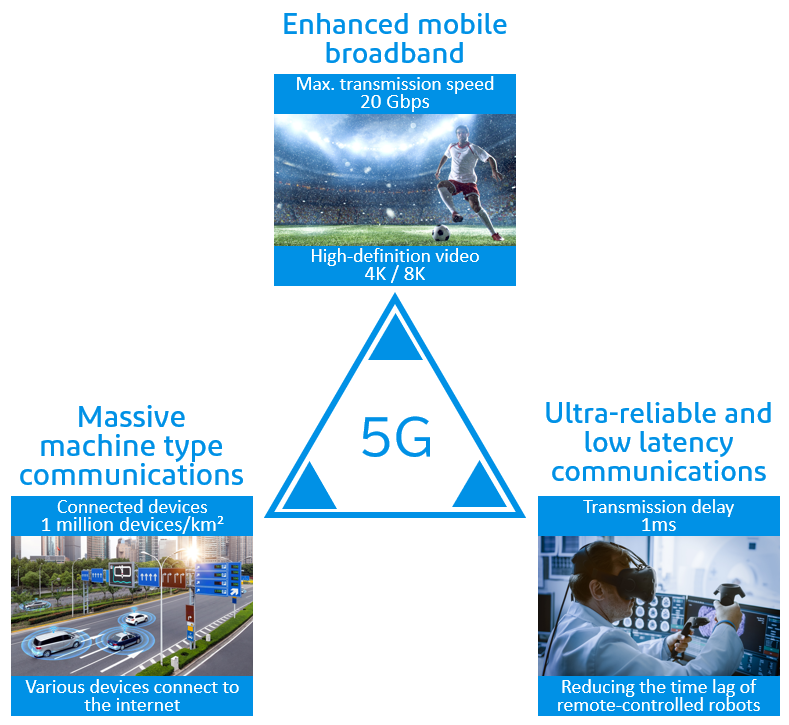 Enhanced mobile broadband
The final requirement for 5G is a maximum communication speed of about 20 Gbps for downlink and a maximum of about 10 Gbps for uplink. The maximum communication speed of 4G is about 1 Gbps for downlink and several hundred Mbps for uplink, therefore the standard 5G communication speed is 10 times that of 4G.
 
Ultra-reliable and low latency communications (Applying MEC: Multi-access Edge Computing technology)
According to 5G requirements, the transmission delay is about 1 millisecond. This is expected to be reduced by about 1/10 from the transmission delay of 4G.
 
Massive machine type communications
With 5G, it is expected that about 1,000,000 terminals per 1㎢ can be connected at the same time. In 4G,  approximately 100,000 terminals can be connected at the same time per 1㎢, so about 10 times as many terminals can be connected at once compared to 4G.
5G Frequency (Carrier Wave)
---
In order to contribute enhanced mobile broadband, which is one of the features of 5G, it is necessary to secure a wide frequency band. Therefore, the point is to utilize a high frequency band called mmWave, which is different from the low frequency band used in 4G so far.
Sub6
The frequency band from 0.41 GHz ~ 7.125 GHz, which has been used since before 4G.
 
mmWave (Carrier wavelength is 1 cm or less)
The high frequency band from 24.25 GHz ~ 52.60 GHz, which will be newly used in 5G. 

With the advent of 5G, the frequencies used in mobile communications have changed significantly. The 5G connector needs to support not only the Sub6 bands used so far, but also mmWave, and excellent transmission characteristics and excellent shielding performance are indispensable. A good shielding design helps reduce EMI and improves the overall EMC performance of the device.
I-PEX supports a wide range of 5G products such as smartphones, laptops, mobile hotspots, XR devices, and CPE with RF connectors and board-to-board connectors that support the mmWave band and sub6 bands used in 5G. 
Contact us for more information.