I-PEX offers an extensive line of 5G connectors for mmWave and sub-6 GHz applications:  from a very compact size micro-coaxial solution that can carry 45 GHz, to fully-shielded board-to-board and micro-coaxial solutions utilizing intermediate frequencies up to 15 GHz.  All of our RF connectors can be used in sub-6 GHz frequency range.  See our 5G connectors in various frequencies.   
Related article: 5G Connectors: Enabling the 5G Vision

15 GHz
---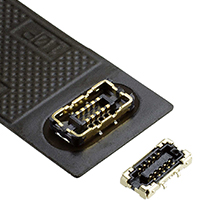 The NOVASTACK 35-HDN Connector is perfect for small spaces required by mobile phones and hotspots utilizing intermediate frequencies (IF) to 15 GHz before converting to mmWave frequencies. Its 0.35 mm pitch and 0.7 mm mated height make placement flexible for design engineers to maximize space. The patented 360-degree shield created by the mated pair greatly reduces EMI compared to a similar unshielded solution. The compact design and shielding is versatile for the challenges faced by smart phone and mobile hotspot engineers where space is critical.  Click to watch NOVASTACK 35-HDN product video.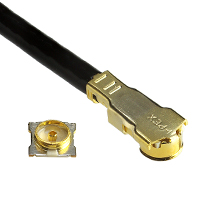 The MHF 7S Micro RF Coaxial Connector represents a quantum-leap in stamped small form factor connector technology. Leading the way in EMI performance, the MHF 7S Connector redefines the boundaries of what is possible. The revolutionary design eliminates significant sources of EMI when transmitting IF frequencies to enable mmWave frequencies at the antenna module. As devices become more congested with RF signals this feature will aid in reducing noise and assist in passing regulatory emissions tests. In addition to reducing EMI, the MHF 7S Connector also has a 1.5 VSWR max through 15 GHz using a 2.0 mm x 2.0 mm footprint and 1.4 mm mated height. This connector's superior EMI blocking design is ideal for mmWave devices utilizing intermediate frequencies up to 15 GHz. These devices include small cells, notebook PCs, fixed wireless access, and other CPE devices.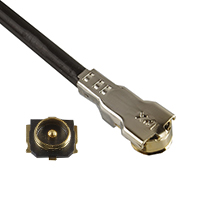 MHF 5L offers a balance between space, performance, and frequency range through 15 GHz.  MHF 5L is available in two cable diameters 1.13 mm OD (AWG#32) and 0.81 mm OD (AWG#33), which provides a mated height maximum of 1.3 mm.
12 GHz
---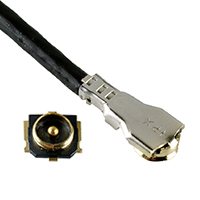 MHF 5 is our lowest mated micro RF coaxial connector, with a mated height of 1.0 mm.  MHF 5 is small form factor solution for applications through 12 GHz.  There are 3 cable sizes available: 0.81 mm OD (AWG#36), 0.64 mm OD (AWG#36), 0.48 mm OD (AWG#38).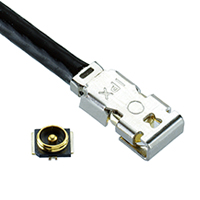 MHF 4L LK is our smallest locking MHF product.  Available in 1.37 mm OD (AWG#30), the MHF 4L LK was designed for shock and vibration applications using frequencies up to 12 GHz.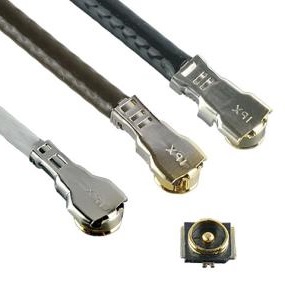 The M.2 industry standard, mated height of 1.2 mm, 1.4 mm, and 1.7 mm max.,excellent electrical performance up to 12 GHz
9 GHz
---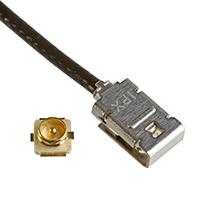 Industry first MHF I LK provides a locking solution that works with all MHF I receptacles with a mated height of 2.9 mm.  This solution has 5 coax options: 1.80 mm OD (AWG#30), 1.37 mm OD (AWG#30), 1.32 mm OD (AWG#32), 1.13 mm OD (AWG#32), 0.81 mm OD (AWG#36). Click to watch MHF I LK product video.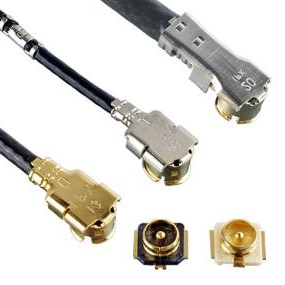 MHF I is I-PEX Connectors' first connector to use the patented i-Fit crimp termination technology.  Supports up to 9 GHz, mated height of 3.0 mm max.
6 GHz
---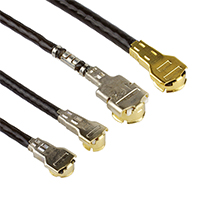 All of the MHF series are capable of handling 6 GHz.  Download the MHF series catalog to see complete options.