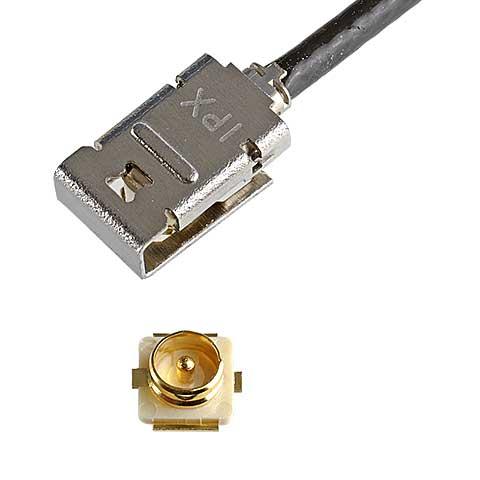 Locking solution that works with MHF I receptacles, supports up to 9 GHz, mated height of 2.9 mm max
Ideal for continuous shock and vibration applications

Patented locking system for MHF® I plug

Mates with all MHF®  I receptacles
Micro-Coaxial Cable (AWG):
#30 (O.D. 1.80 mm)
#30 (O.D. 1.37 mm)
#32 (O.D. 1.32 mm)
#32 (O.D. 1.13 mm)
#36 (O.D. 0.81 mm)
Downloads
---
Ideal for continuous shock and vibration applications

Patented locking system for MHF® I plug

Mates with all MHF®  I receptacles

Locking solution that works with MHF I receptacles, supports up to 9 GHz, mated height of 2.9 mm max.
How to mate, lock, unlock and unmate the MHF® I LK Micro RF Coaxial Connector with locking function.
Related article:
Product Type
Height
Frequency range
V.S.W.R.

VSWR (DC~3GHz) 1.3

VSWR (3GHz~6GHz) 1.5

Applicable Standards (Reference Only)

5G sub-6

IEEE802.11 b

IEEE802.11 a

IEEE802.11 g

Wi-Fi 4

Wi-Fi 5

Wi-Fi 6

LTE /LTE-Advanced

LPWA

Bluetooth

GPS

Full shielding (ZenShield®)
Mechanical lock
MHF I LK RECOMMENDED PART NUMBERS
| | |
| --- | --- |
| Part Number Description | Part Number |
| MHF I LK PLUG SET (Offered as harness only) | See note below* |
| MHF I&II RECEPTACLE | 20279-001E-03 |
*The MHF I LK is available with our MHF I LK wire assembly.
  Please specify wire assembly specification (single-end or double-ended, cable size, length, color).
Other Part Numbers

Please note: This list potentially includes products without available samples and end-of-life items. 
For new inquiries, please reference the recommended part numbers listed above.

OTHER MHF I LK PART NUMBERS

| | |
| --- | --- |
| Part Number Description | Part Number |
| MHF I&II RECEPTACLE (2.5K pcs/reel, Paper reel)   | 20279-001E-01 |
| MHF I&II RECEPTACLE (10K pcs/reel, Plastic reel)   | 20279-001E-05 |
| MHF I&II RECEPTACLE (4 pads type) | 20441-001E-01 |
SMA Adapter

Usage (Durability Cycles)

Part Number

Plug

Electrical Performance (3K)

90193-001

Voltage Check (10K)

90194-001

Receptacle

Electrical Performance (500)

90193-002

High Cycle Normal (10k)

90539-001

High Cycle Narrow Pitch Wire (100)

90577-0100 (100mm)

90577-0350 (350mm)

High Cycle Narrow Pitch Probe (10K)

90575-0001

High Cycle Detachable Base (200K)

90684-0001

High Cycle Detachable Probe (10K)

90416-001

Hand Tool

Part Number

Unmating Tool

91026-0001