Connected Car and I-PEX MHF® I LK Micro RF Connector
With the development of communication technologies such as IoT and 5G, the digitization and networking in automobiles continues to progress. The development of telematics (using a system that sends and receives various information by installing wireless communication equipment in moving vehicles) and infotainment, such as integrated intelligent cockpits with wireless communication function and head units, is becoming more prevalent.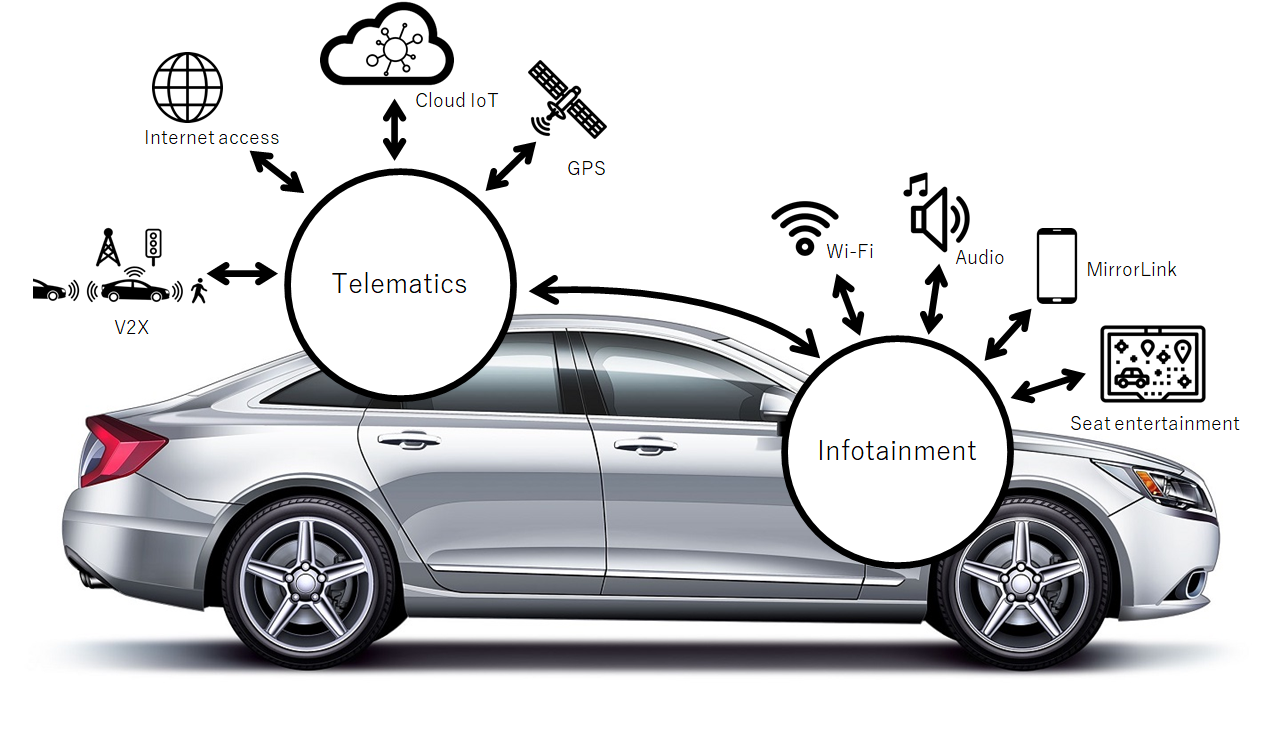 Compared to general consumer products, cars have a longer life expectancy. During their lifespan, they generate a lot of vibration and shock when driving at high speeds and over bumpy roads. Therefore, it is necessary for connectors used in vehicles to have high vibration and shock resistance to enable stable signal transmission.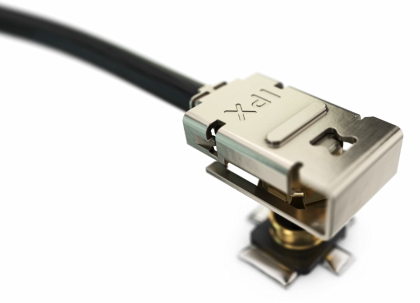 The MHF® I LK micro RF connector plug is designed using a patented mechanical locking feature, which greatly improves the plug retention force compared to common micro RF connectors in the same category in the market. This solution is widely adopted by many customers, especially for applications where vibration and shock are expected, with automotive applications being one of the examples.
Case Study: T-BOX
---
The T-BOX (Telematics-Box), also known as the Telematics Control Unit (TCU), is a standard connected car terminal that provides GPS satellite positioning, wireless communication to the Internet, cloud IoT and V2X. It also enables multiple online applications for automotive such as remote vehicle monitoring, remote control, safety monitoring and alerting, etc. The I-PEX MHF® I LK micro RF connector with a mechanical lock is used by several automotive antenna manufacturers. We spoke with one of these companies about how our connectors were installed in T-BOX products for shark fin antennas.
This particular major car manufacturer has been in operation for more than 60 years They make car communication antennas, such as Wi-Fi, router, CPE, smart enterprise network, smart home, and LT antennas, etc., including shark fin antennas, flat plate antennas. They use a variety I-PEX MHF® series micro RF connectors in their car antenna products. The MHF® I LK is used in their T-BOX to connect and transmit GPS, V2X, and Wi-Fi signals.
According to the chief engineer of their technology department, they are using four MHF® I LK connectors in one of their T-BOX products. One is built in the low version of the antenna, which is used to connect the GPS signal. Three are built in the high matching version, two of which are used for the V2X signal, located in front and behind for unmanned driving, and the last one is used for the Wi-Fi signal. Their antenna is inside the box antenna, not the traditional independent shark fin, which is the external connection type. For this type, they use the MHF® I LK connector on the board, and then directly mate it to the receptacle. This step is completed in the box. There will be another motherboard with antennas between the two boards. The box already has very little room in the car, and the I-PEX MHF® I LK's small size, thin wiring harness and high reliability make it suitable for connection inside the box.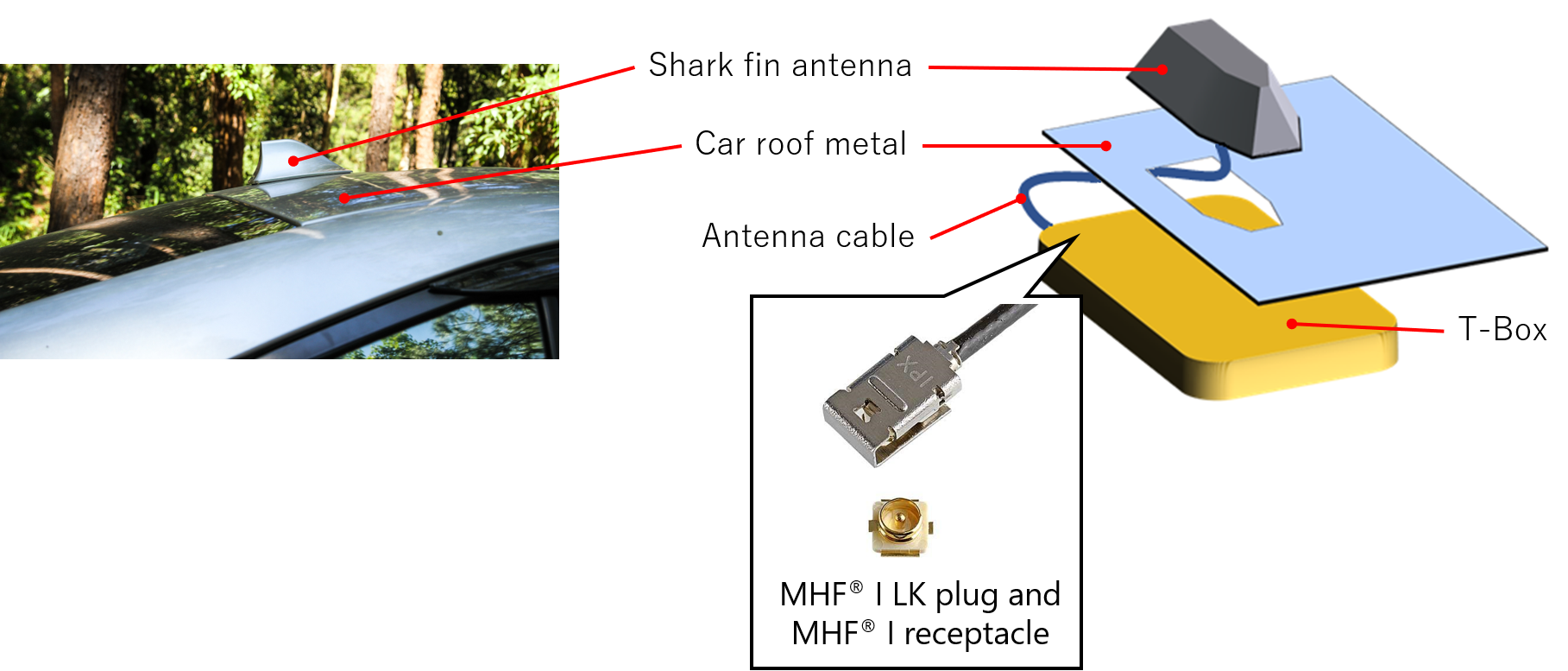 The chief engineer for their structural department said, "Our T-BOX and antenna are very small and have limited space in box. The MHF® I LK has very good anti-vibration performance in small spaces." The on-board application requires very high anti-vibration capabilities. At first, they used a common micro RF connector which has no mechanical lock functions. They were concerned about whether the connector would come loose after vibration, because the probability of similar situations occurring in on-board applications is relatively high. They solved this problem in the early stages by using glue to affix the connector to keep it in place, but this operation has certain risks, which will cause other problems, including the inconvenience of maintenance. They decided to use the MHF® I LK which has an additional mechanical lock function. According to them, the MHF® I LK passed their 6G vibration test during evaluation.
Case Study: HEAD UNIT
---
The vehicle-mounted HEAD UNIT is another example. The I-PEX MHF® I LK Micro RF Connector has been successfully applied in the HEAD UNIT, which plays role of the controller of the vehicle of human-to-computer interaction, and integrates the car infotainment system, lighting, air conditioning & stereo, driving assistant system, 360-degree images, face and voice recognition, and other functions.... MHF® I LK RF Connectors are used in this HEAD UNIT to connect wireless signals such as the main antenna signal, radio broadcast and Bluetooth to the motherboard, which is located at the back of the wide-body central control display.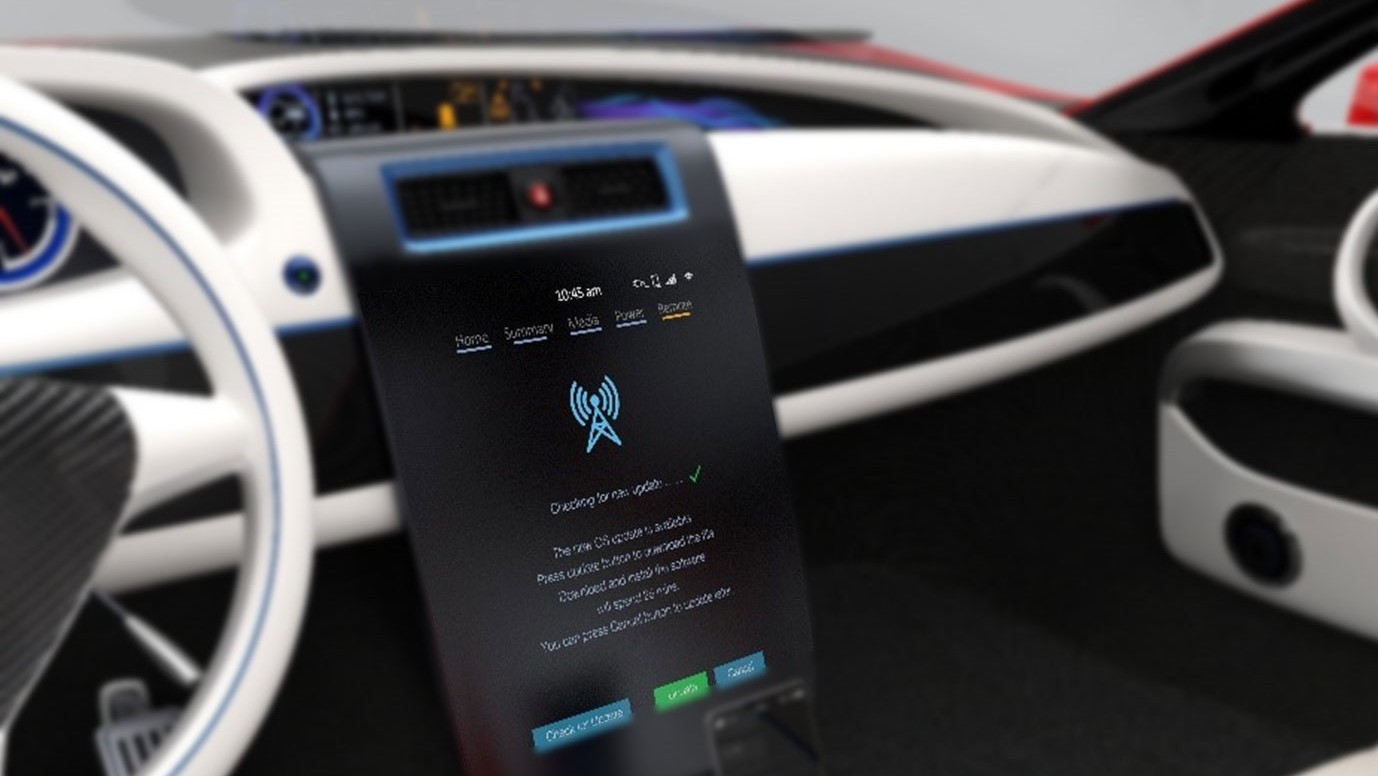 MHF® I LK Micro RF Connector
---
Compared to the MHF® I Connector, which is a general friction lock type micro RF connector that does not have an additional mechanical lock function, the initial plug mating retention force of the MHF® I LK with mechanical lock applied is doubled. In addition, after mating and unmating the MHF® I LK Plug 30 times without applying mechanical lock, the mating retention force with mechanical lock is about three times that of the MHF® I Connector. This high retention force makes it possible for the MHF® I LK to ensure high signal connection reliability even under the continuous impact and vibration from road conditions.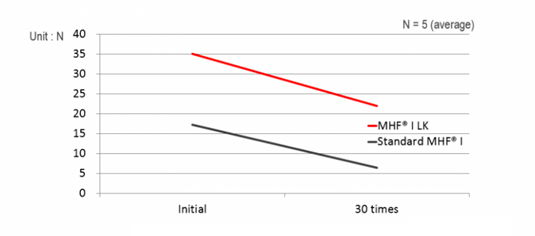 The high mating retention force helps to improve assembly efficiency on the production line and helps reduce product manufacturing costs by reducing the additional banding tape or adhesive application process to ensure that the connector stays mated in the production line. It also reduces fixture material removal process during maintenance or inspections.
Locking/Unlocking Method and Locking Status Check
---
In addition, the connector's simple and easy-to-understand one action locking and unlocking mechanism (sliding the lock cover back and forth) and the "check window" function that allows the user to visually check the lock status enhance the reliability of the lock during handling.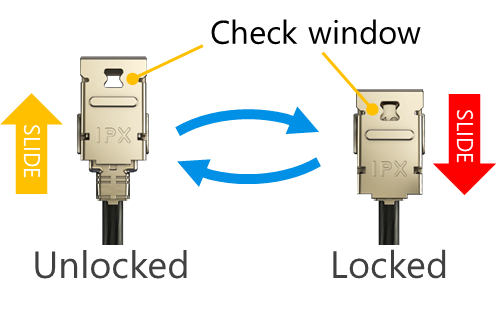 With the development of communication technologies such as IoT and 5G, the digitization and networking in the automotive market will continue to grow. Further development of integrated intelligent cockpits and head units equipped with wireless communication functions is happening more frequently.
The MHF® I LK Connector won wide acclaim from customers' production line Supplier Quality engineer as an ideal product for such wireless communication devices that need to ensure stable connectivity.
I-PEX Micro RF Connectors with Mechanical Locking
---
I-PEX has additional micro RF connectors that also have mechanical locking functions.
MHF® 4L LK: Frequency range: up to 12 GHz,
Applicable RF coaxial cable size AWG 30 (O.D. 1.37 mm)
 
MHF®-TI: High retention force (80N minimum),
Applicable RF coaxial cable size AWG #24 (O.D. 3.00 mm), AWG #26 (O.D. 2.40 mm)
Videos
---