I-PEX射頻連接器是 5G mmWave and Sub-6, 4G LTE, Wi-Fi, Bluetooth, GPS, WiGig, M2M, IoT, SigFox, WiSUN, NB-IoT 和 LoRa應用的理想解決方案。
Contents 
---
Why Select I-PEX RF Connectors?
1) Industry standard connector
2) Variety of options
- Coaxial cable size variety
- Mated height and pad layout
- Mechanical lock
- Ground clip and clamp
3) i-Fit® Technology
- What is i-Fit Technology?
- i-Fit exceeds precision of solder
- Industry adoption
- Fully Automated Harness Solutions from I-PEX
Why Select I-PEX Switch Connector?
- Industry leading innovations
Accessories
- Adapters, probes and tools
Why Select I-PEX RF Connectors?
---
1) Industry Standard Connector
Current Standards
I-PEX MHF Series Connectors are standard components in a wide array of wireless devices including : smartphones, tablets, notebook M.2 and M2M modules, automotive infotainment systems, and more. As the Internet of Things (IoT) deployment accelerates, the MHF Series will play an increasing role in global wireless connectivity. With MHF connector shipments in excess of 2 billion units, I-PEX has consistently provided a robust, reliable and cost-effective solution for wireless design.
5G and Future Standards
I-PEX's addition of MHF 7 and MHF 7S to the MHF product line solves 5G mmWave and sub-6 solutions. Large devices require long harnesses to transport signals.  Such devices include NBPC, Small Cell, and CPE applications. The 5G application ready MHF 7 and MHF 7S solve many of the unique challenges for connectors in 5G devices. I-PEX leads the way to enabling 5G innovation.
Wi-Fi 6E has been extended to the 6 GHz band (5.925 to 7.125 GHz) in order to achieve higher speeds and higher capacity, improving stability when connecting multiple devices simultaneously and helping to save energy. Since MHF I and MHF 4L support up to 9 GHz and 12 GHz, Wi-Fi 6E can be used in the same way as the existing Wi-Fi.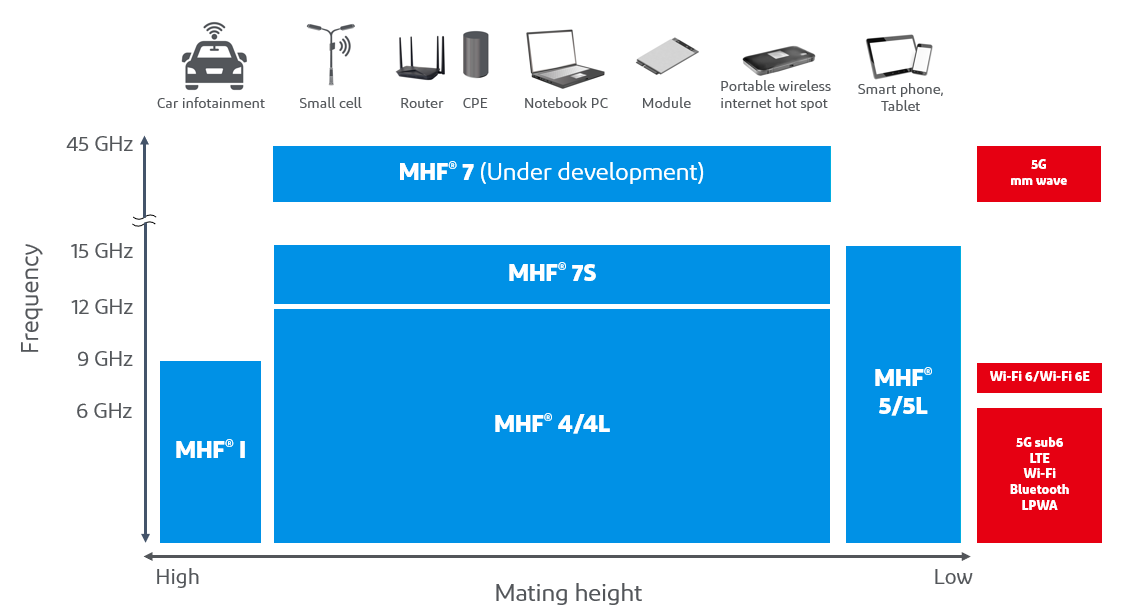 2) Variety of Options
2-1) Coaxial cable size variety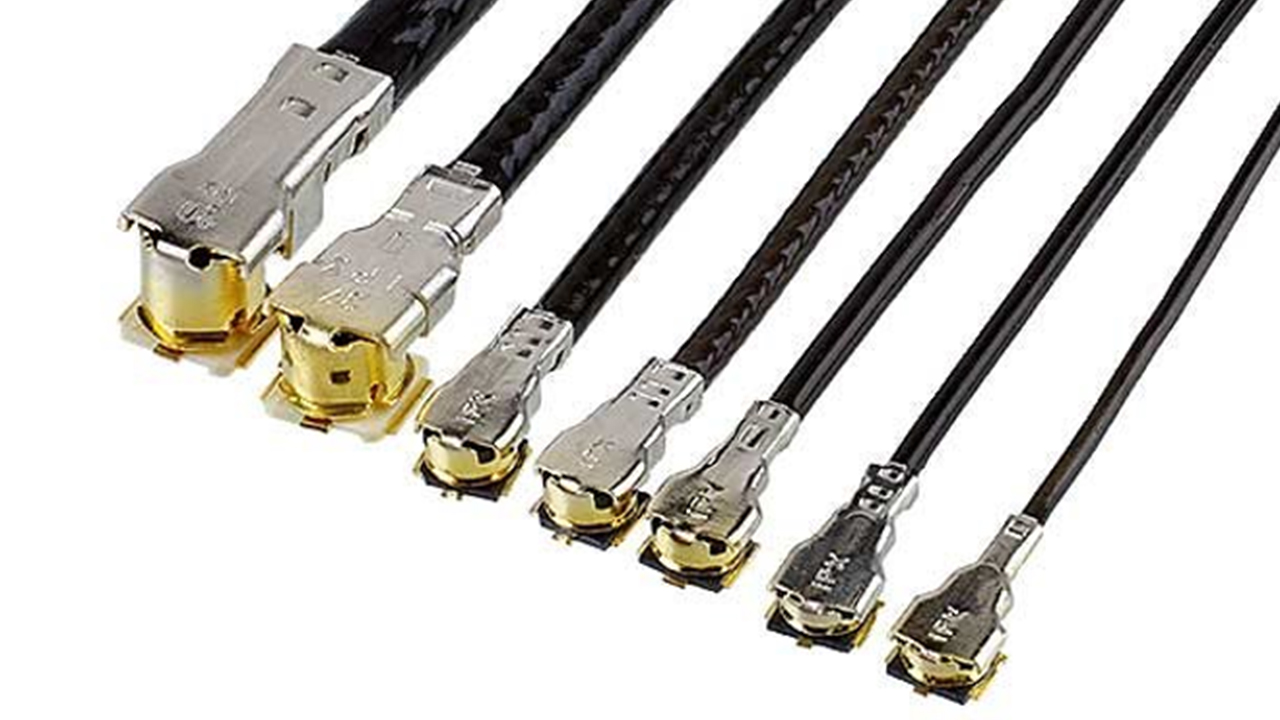 I-PEX offers a wide variety of MHF options to fit insertion loss and VSWR requirements. This selection offers flexibility in enabling wireless connectivity within a system. Depending on MHF type, coax outer diameters range from 0.48 mm (MHF 5) to 0.81 mm (MHF I, MHF III, MHF 4L, MHF 5, MHF 5L) to 2.0 mm (MHF I). Typical insertion loss values by coax type and harness length can be found below.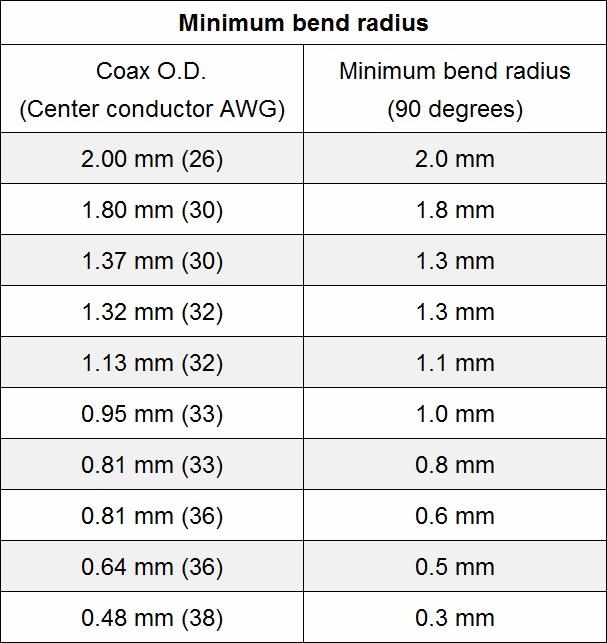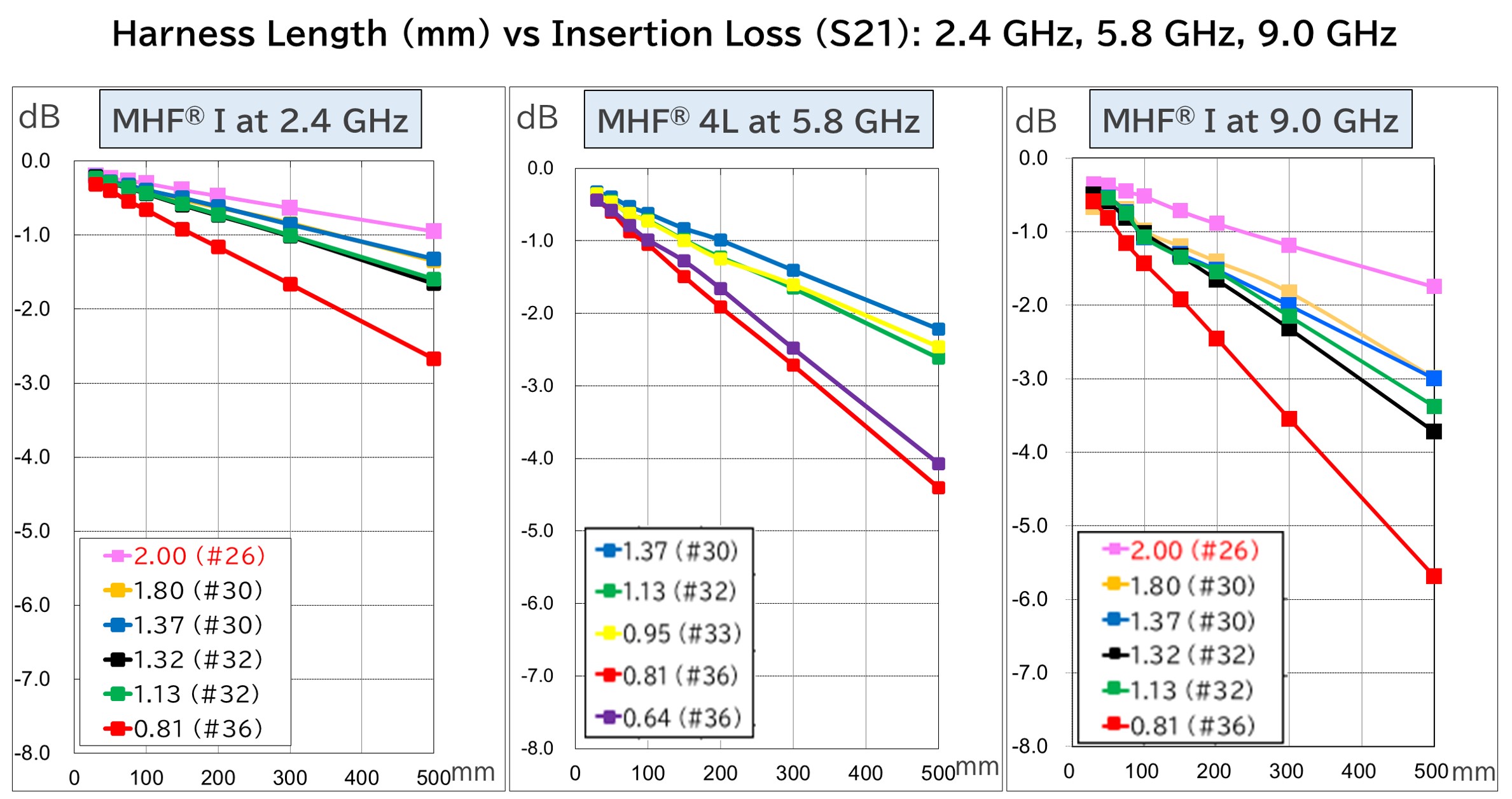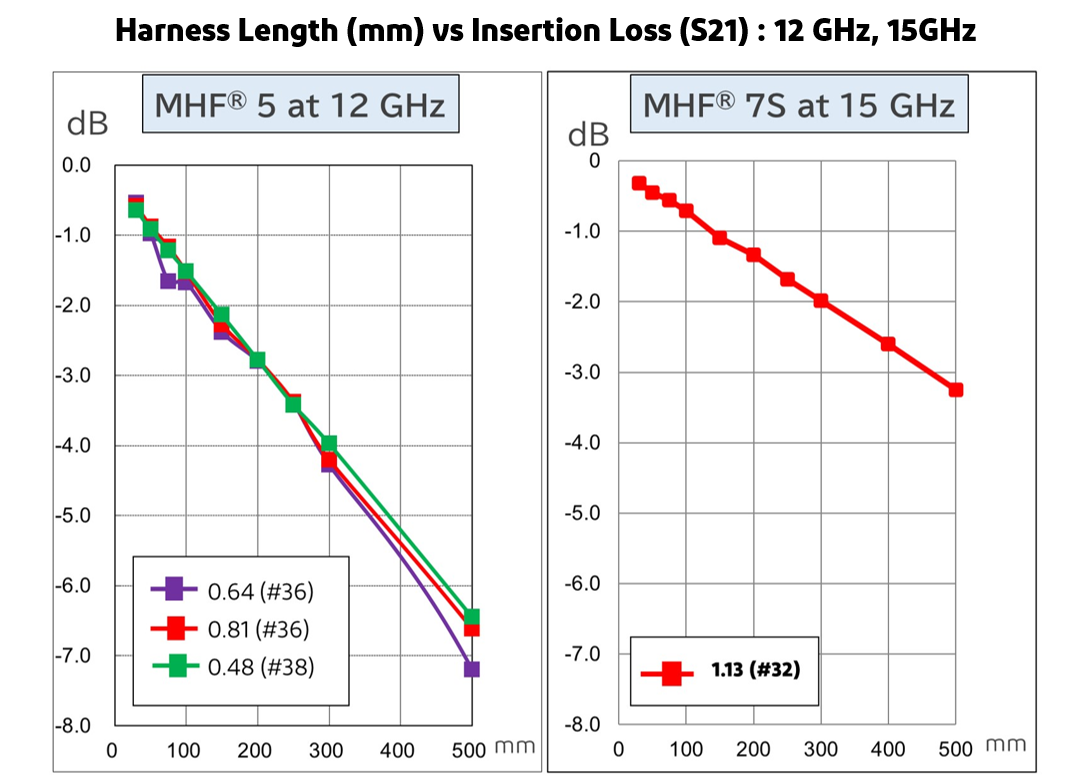 2-2) Mated height and pad layout
I-PEX's MHF Series has a selection of mated height profiles that can fit in various designs. From small form factors like phones and tablets to notebooks to robust solutions for shock and vibration environments. In addition to the flexibility of mated heights, the MHF Series has several pad layouts design engineers can choose.

2-3) Mechanical lock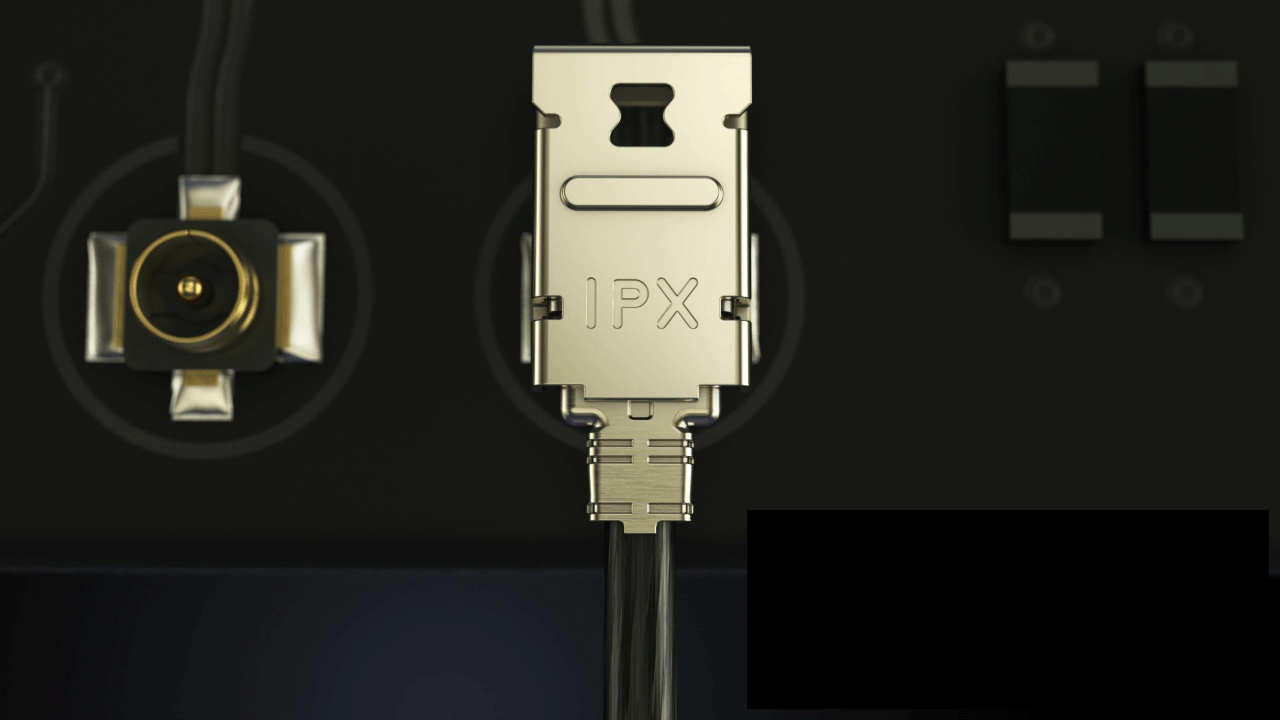 The MHF I LK and MHF 4L LK from I-PEX are industry firsts. The addition of the lock to the standard MHF I and MHF 4L plugs increases the retention force. This technology is suited for applications where maintaining continuous connectivity is essential such as drones, fleet management, asset tracking, security, and personnel monitoring. Having the locking function in two MHF sizes, MHF I LK and MHF 4L LK, design engineers have flexibility to choose across size and performance to suit an assortment of devices and form factors. 

2-4) Ground clip and clamp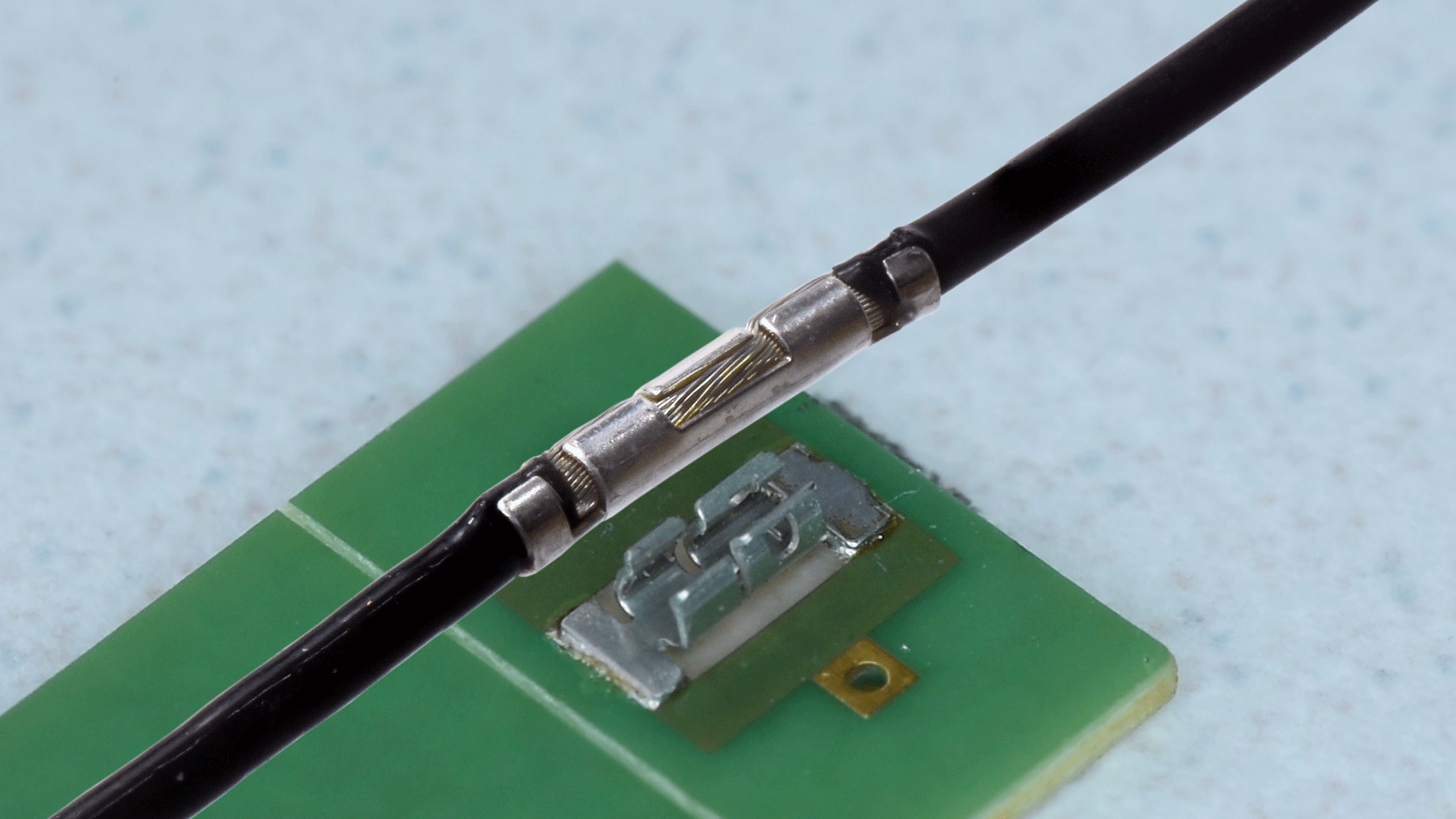 I-PEX offers a PCB clip and clamp system:  MP-A. The clip can be used for cable routing, typically without the clamp. Or, with the clamp, RF engineers receive an added benefit of EMI suppression that benefits EMC testing requirements for regulatory compliance.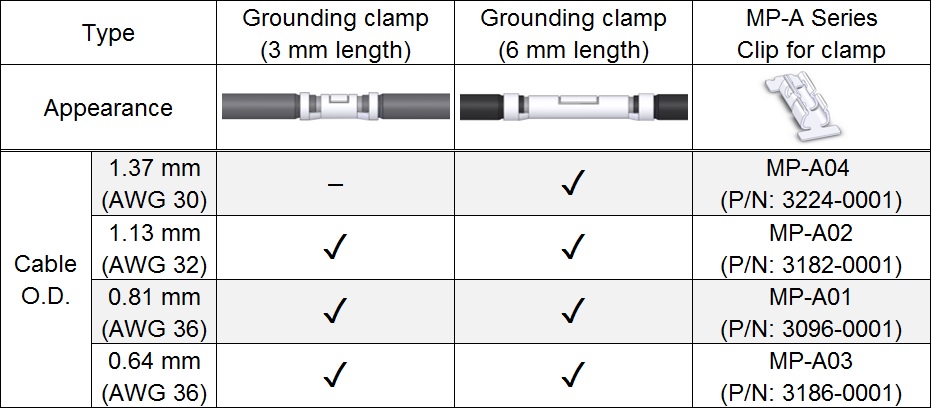 MHF 7S harness with cable clamp and clip provides optimal EMC solution.
Ideal for 5G mmWave applications.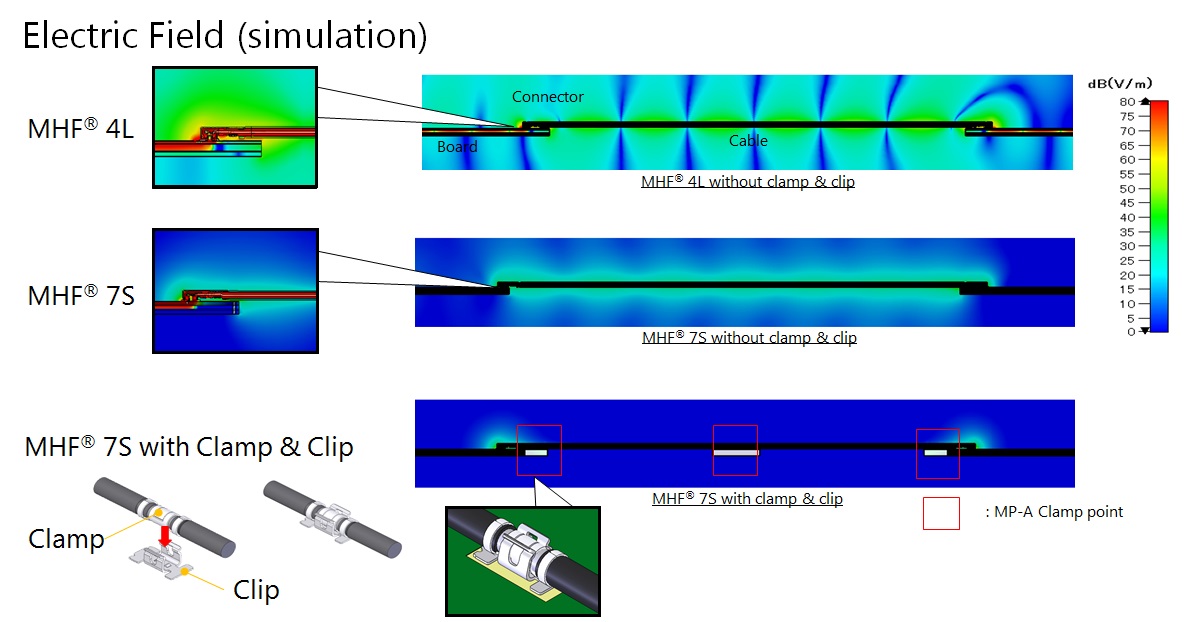 3) i-Fit® Technology
3-1) What is i-Fit Technology?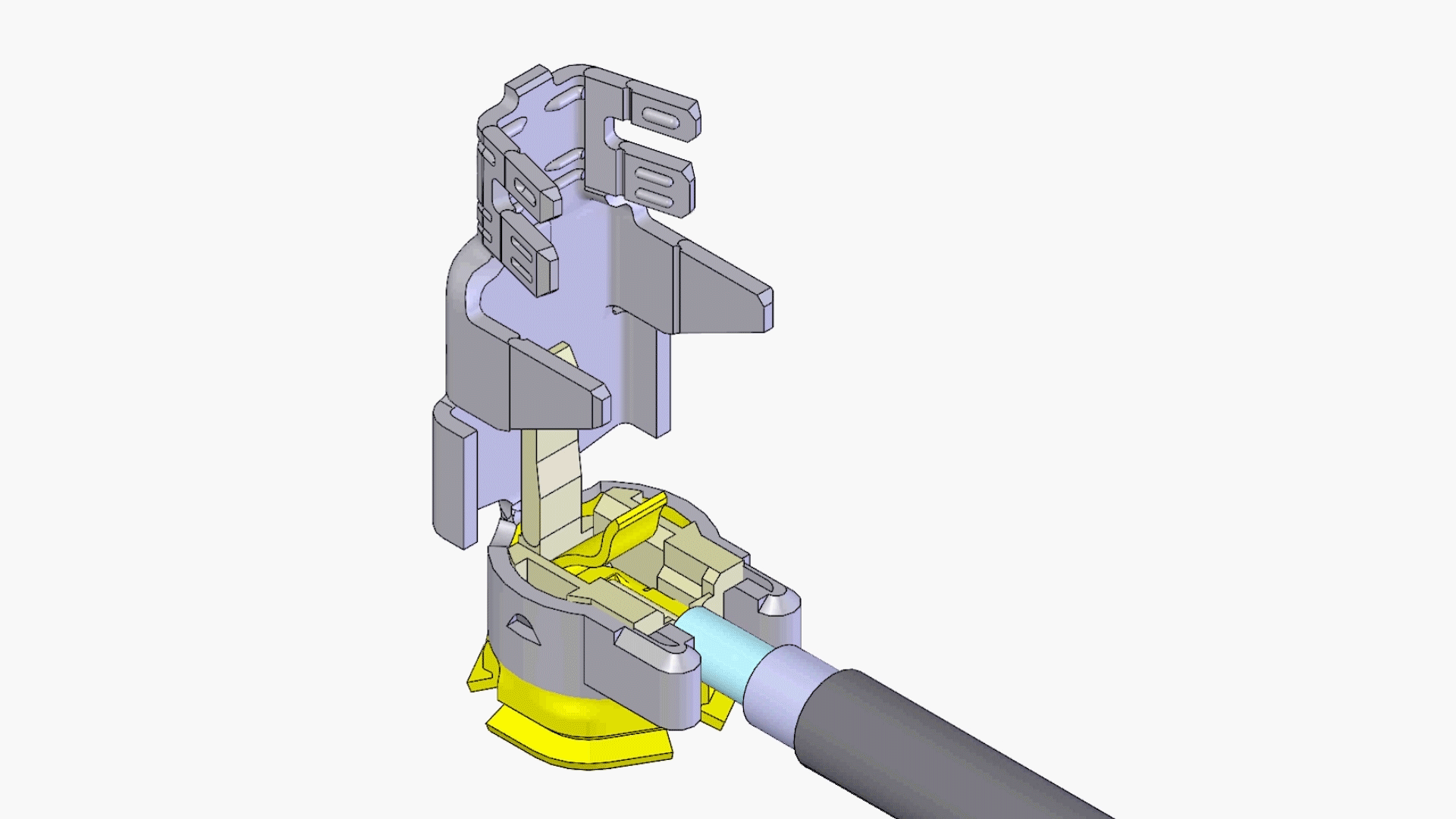 I-PEX's patented i-Fit solderless terminating technology is the core of the MHF connector series. Simple and scalable, i-Fit enables MHF harnesses to have consistent performance values within a tight range. The repeatability enables efficient system integration due to low variability from harness to harness.

3-2) i-Fit exceeds precision of solder
I-PEX's patented i-Fit solderless terminating technology vs. solder termination outperforms in a side-by-side VSWR comparison. Solder processes introduce variability and inconsistency from harness-to-harness. The i-Fit method removes the variability of solder thereby increasing the repeatability and precision of electrical performance.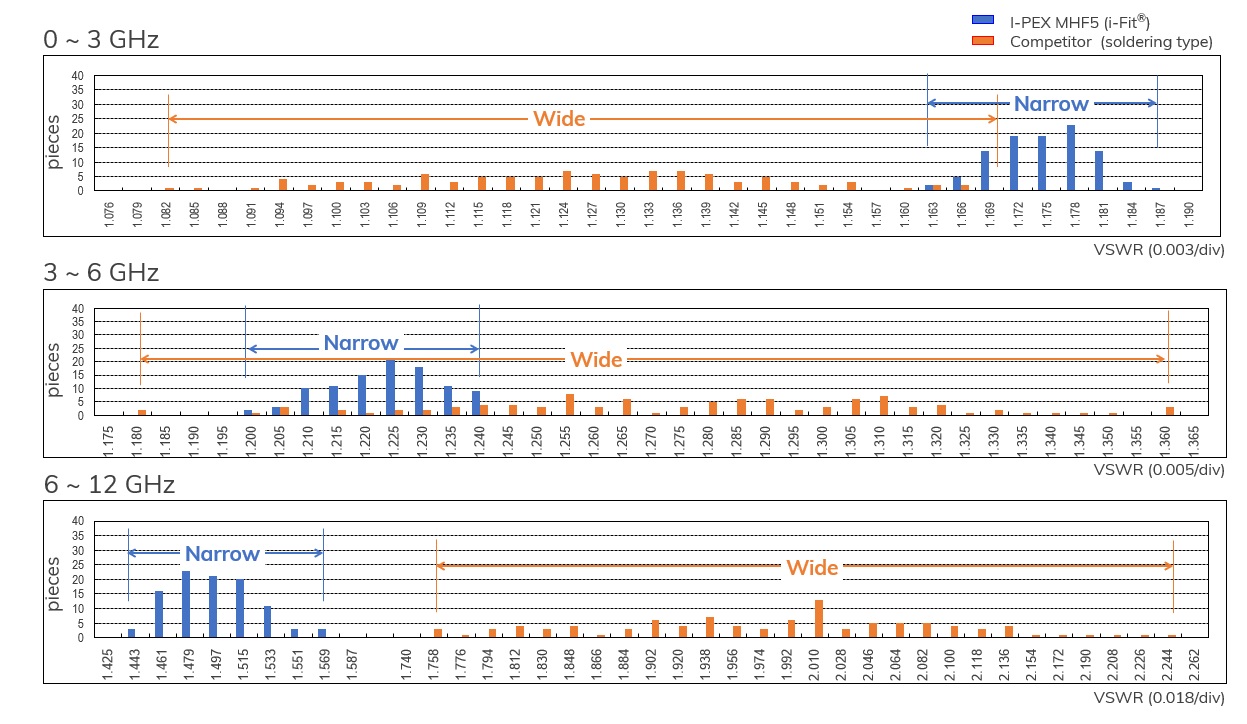 3-3) Industry adoption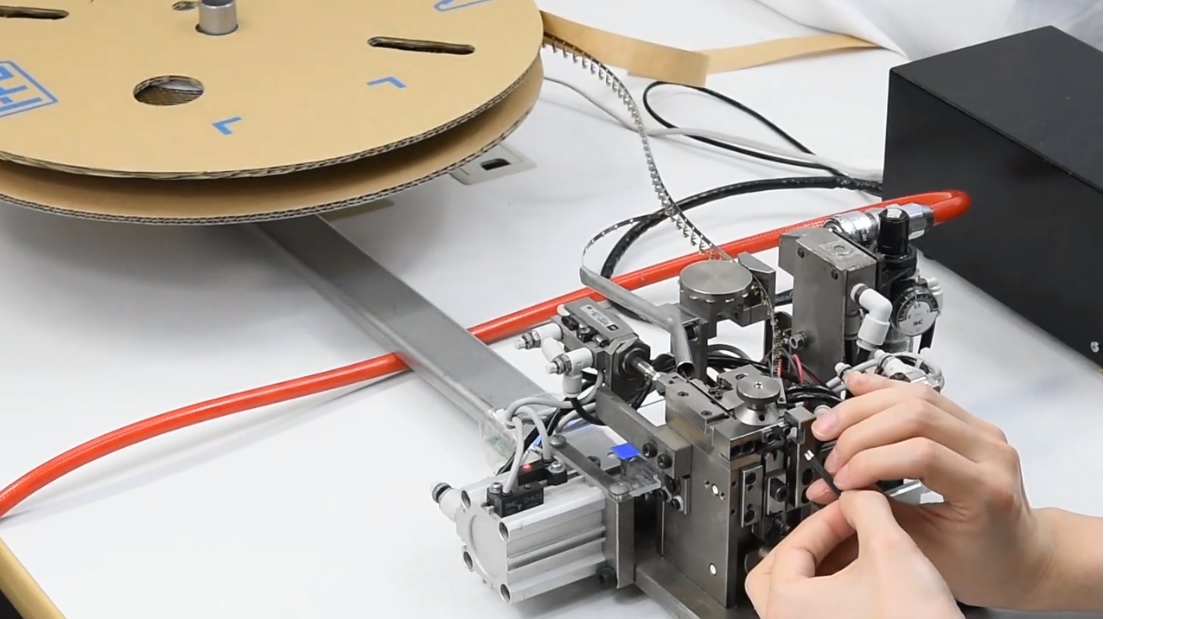 I-PEX's i-Fit technology has enabled antenna and harness makers to have the ability to terminate MHF products in local production facilities. With over 1,000 termination machines in the field, more than 100 customers produce MHF harnesses and antennas ensuring quality when using genuine MHF components.
3-4) Fully Automated Harness Solutions from I-PEX
I-PEX sells completed MHF harnesses in multiple configurations MHF-to-MHF, blunt cut, strip and tinned. Other value-added options include orientation in 90-degree increments, jacket cut-outs or windows for grounding, adding MP-A clamps or a secondary process at the customer's facility. 
I-PEX specializes and leads in high-speed automated MHF harness production. Using custom Fully Automated Machines (FAM), I-PEX FAMs will cut, strip, crimp, check orientation, and perform mechanical and electrical checks. Completing tens of thousands of harnesses per day, I-PEX MHF automated equipment have unparalleled Defects Per Million Opportunities (DPMO) of less than 1.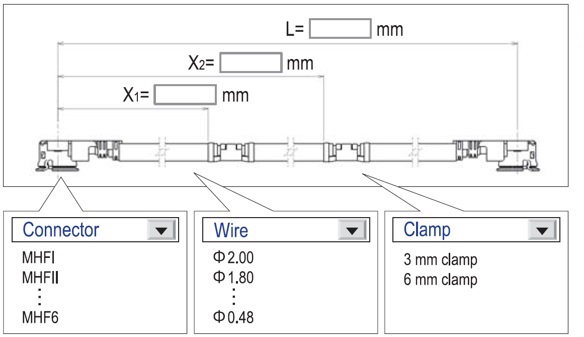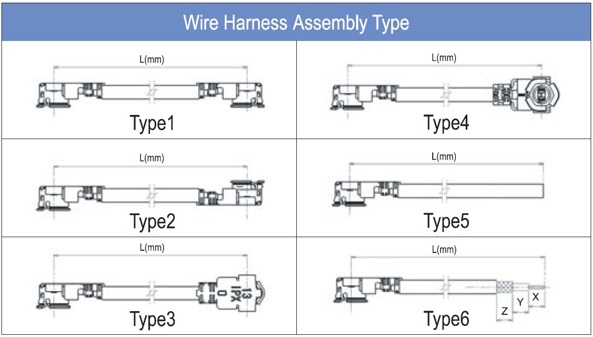 Why Select I-PEX Switch Connector?
---
Industry Leading Innovations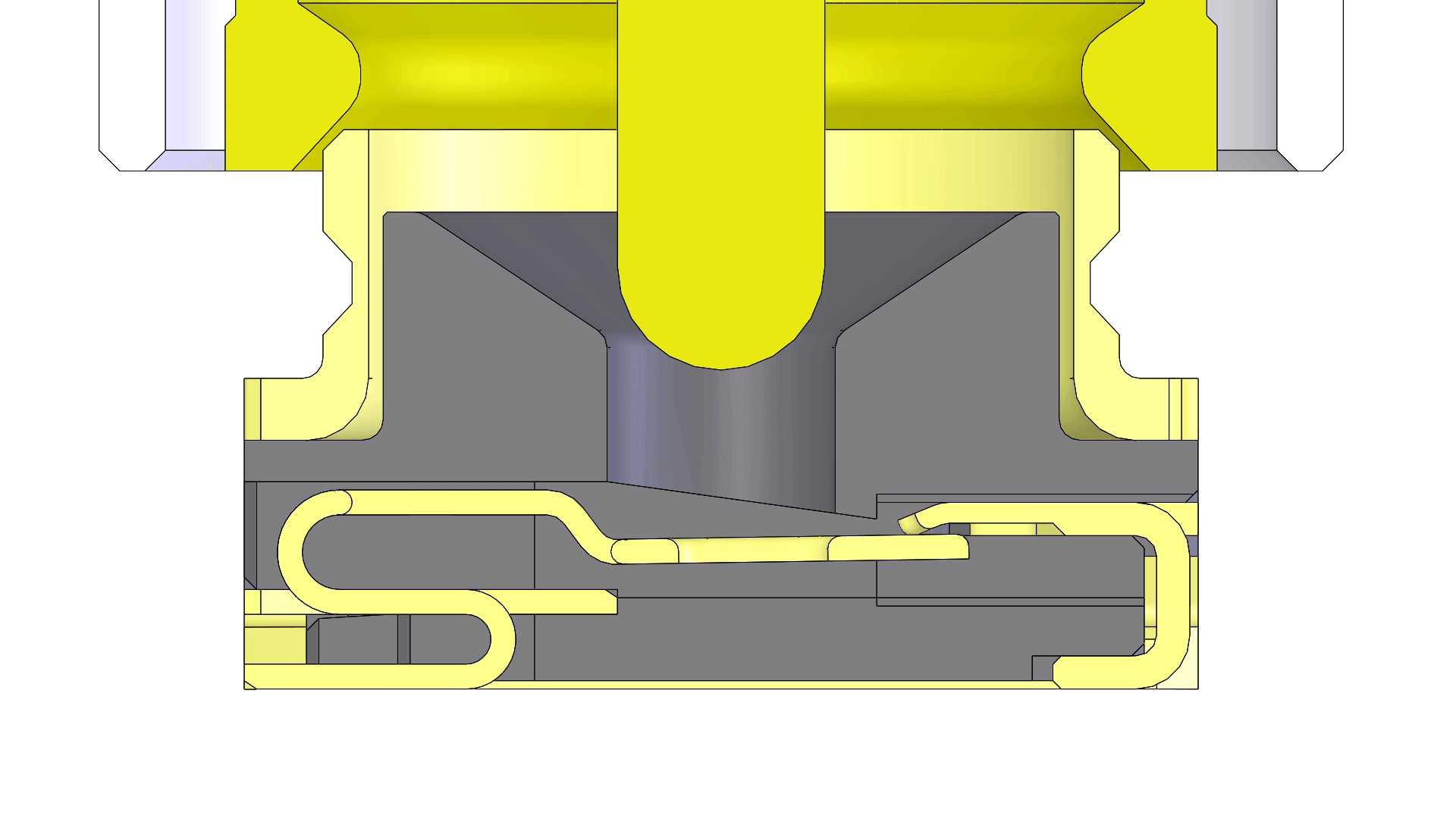 The I-PEX MHF-SW23 provides a critical test point for RF and wireless applications. The MHF-SW23 has a standard size available : 2.3 x 2.3 mm. Typically, a drop-in replacement with compatible land patterns, the MHF-SW23 is robust and reliable. Switching operation utilizing I-PEX's contaminant resistant contact ensures electrical contact is made while the switch is engaged by the probe for testing.
| Product name | MHF®-SW23 |
| --- | --- |
| Appearance | |
| Dimension (mm) | 2.3 x 2.3 x 1.35 (H) |
| Part number | 20549-001E / -01 |
| Rated power | 2W max. |
| Frequency | DC ~ 11.0 GHz |
Accessories
---
I-PEX offers MHF accessories to support test needs from the lab to high volume production. MHF adapters for VNA testing, lab probes, and high-volume test probes are available. Additionally, I-PEX offers MHF mating and unmating tools to properly mate the plug and limit accidental damage during installation in the lab and on the production floor.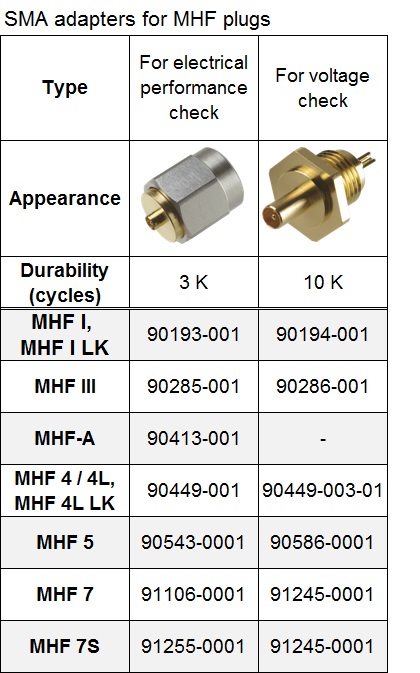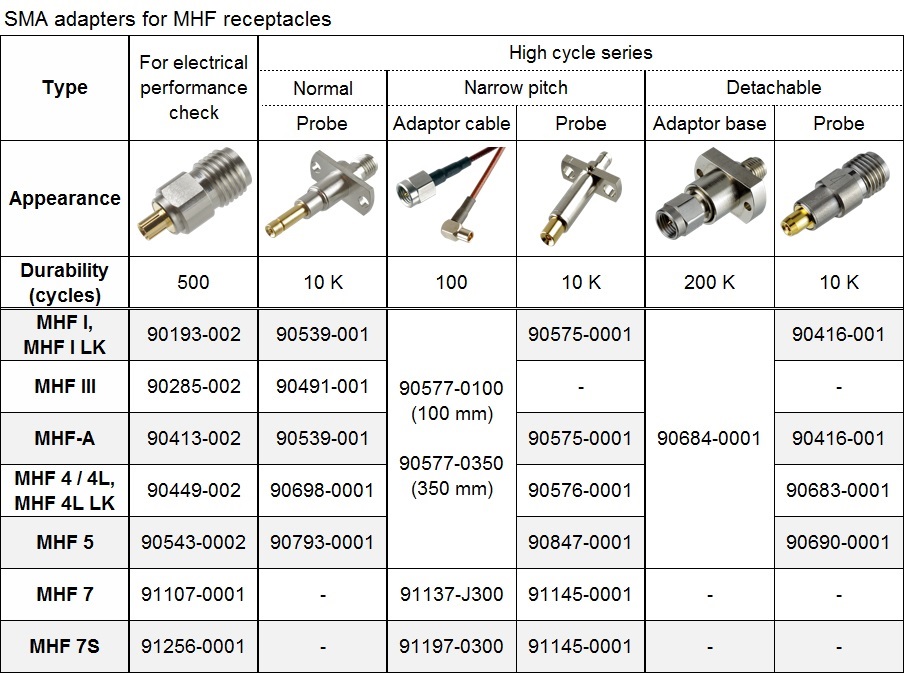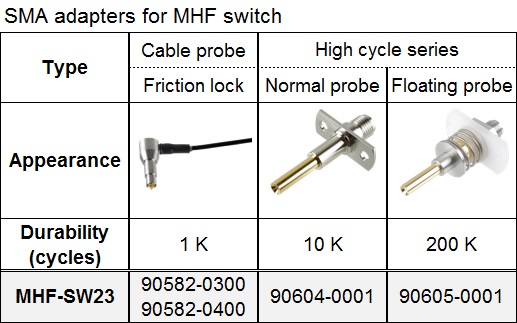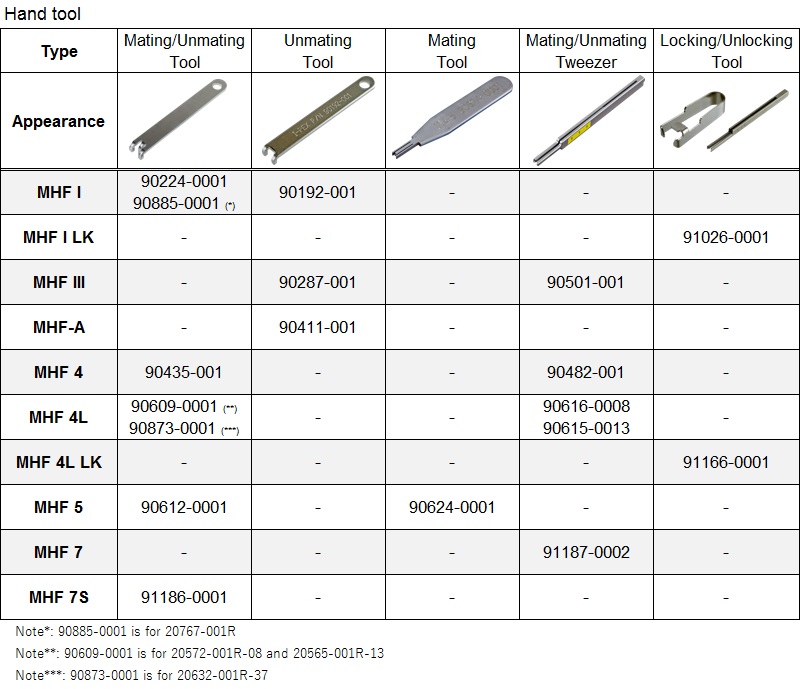 ---
In addition to I-PEX's offering of industry first and standard solutions, I-PEX solutions provide cost savings, productivity benefits and quality assurances exemplifying perfection in precision. Building on this philosophy I-PEX has pioneered low-cost high-volume connector designs for 5G applications. As new bands become commercialized for 5G, I-PEX is leading the way to quality high-frequency solutions to suit the ever-increasing demand for smaller and faster connector solutions.

I-PEX is always eager to work on unique customized solutions. Please inquire here to discuss design requirements.