I-PEX Connectors for Automotive Industry

I-PEX offers a variety of connectors that are ideal for the automotive industry. Below are some use case examples for typical automotive applications such as IGBT, PCU and BMS/CMU.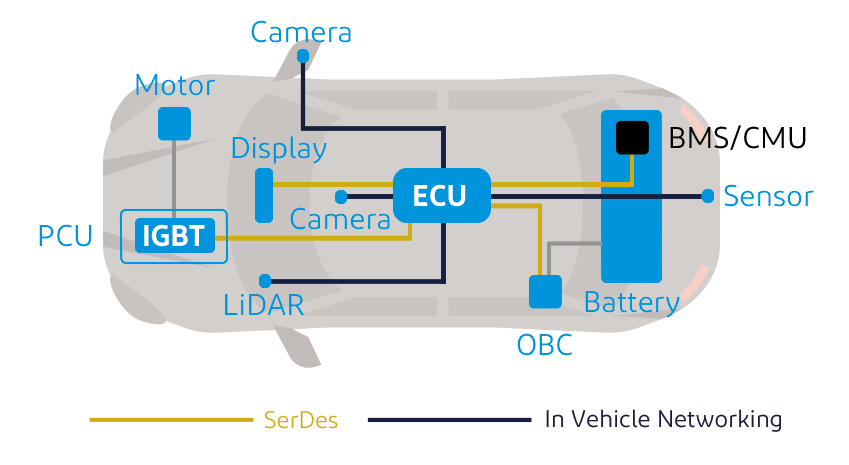 IGBT
---
What is IGBT?
Insulated Gate Bipolar Transistor 
IGBTs are a type of transistor in power semiconductor devices and are mainly used as semiconductor switches for switching in inverter circuits for driving motors.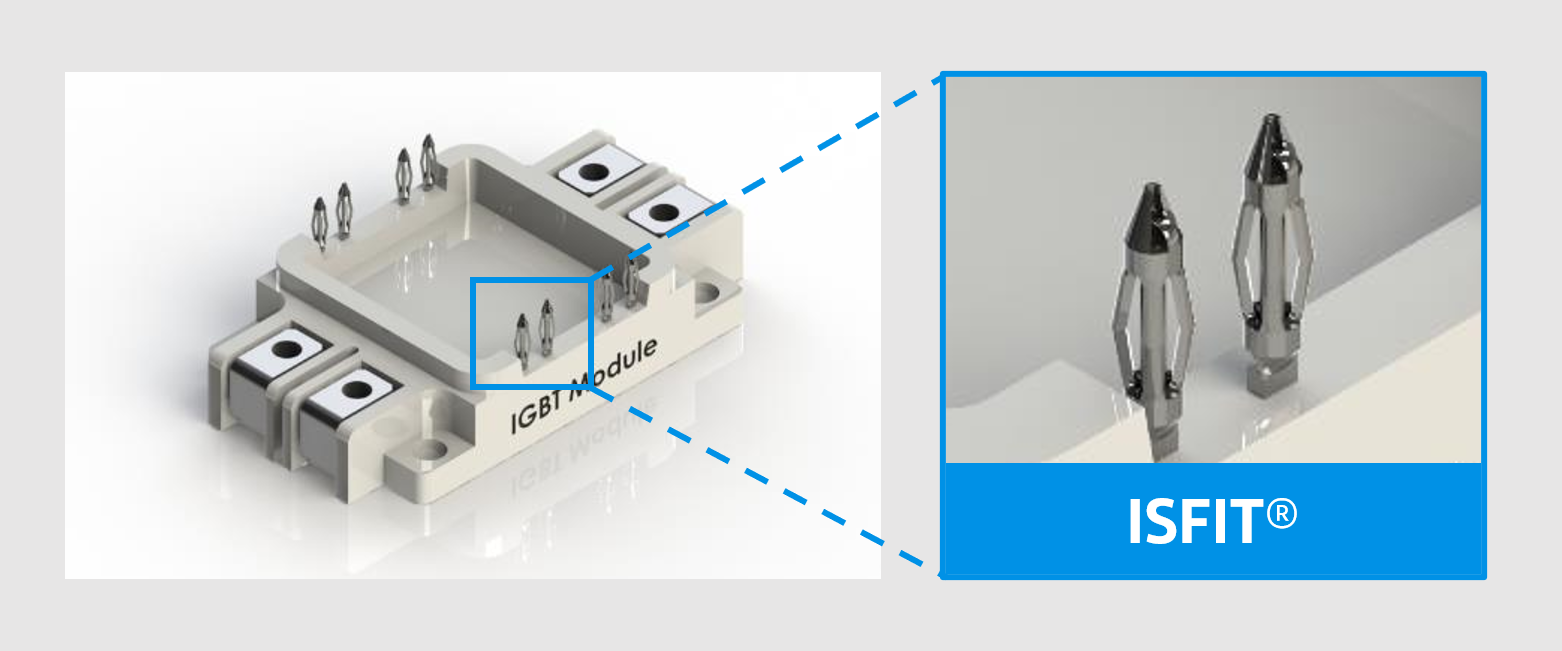 Using ISFIT®, our unique solderless press fit terminal, for IGBT modules can eliminate the conventional soldering process. Furthermore, the ISFIT helps to minimize the risk of damage to the circuit board and improves assembly workability by using lower insertion force than the conventional eye-of-needle type terminal.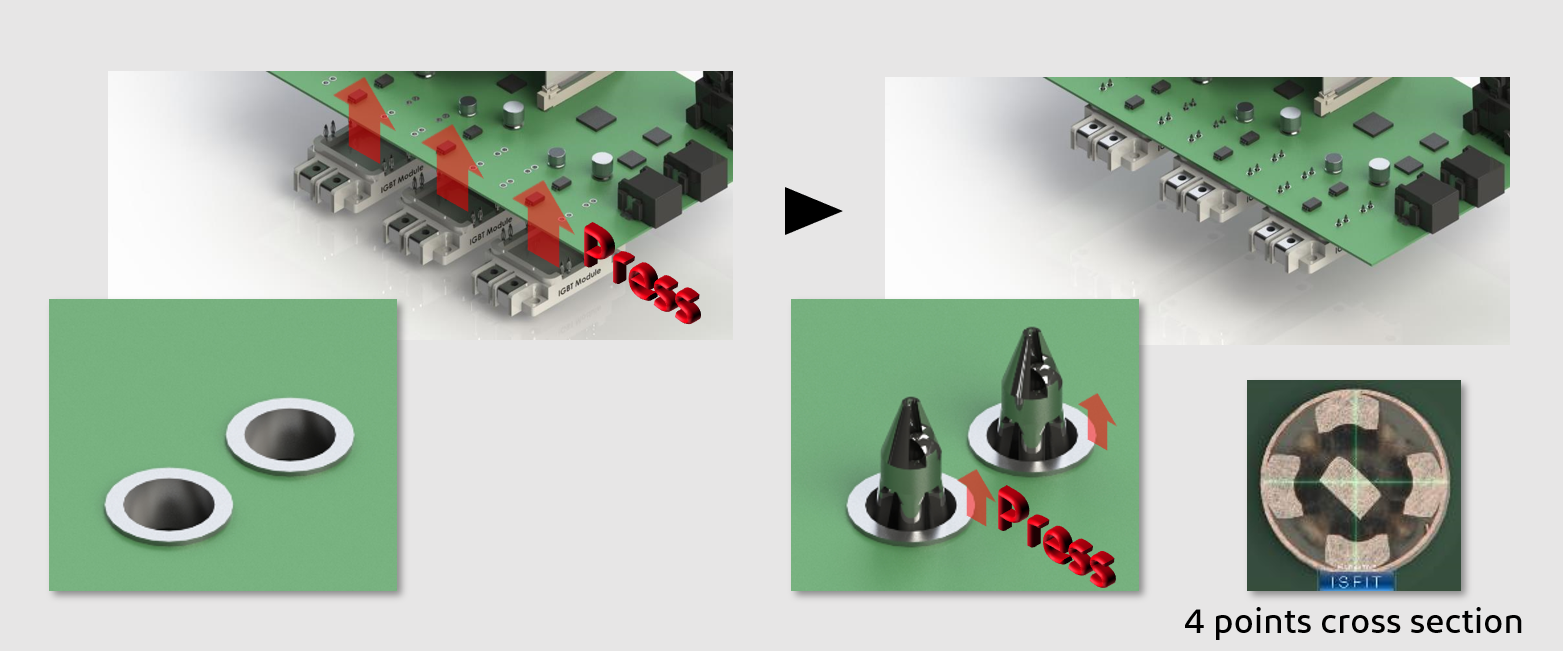 What is PCU?
Power Control Unit 
This is used to receive signals from vehicle and controlling IGBT module for power control.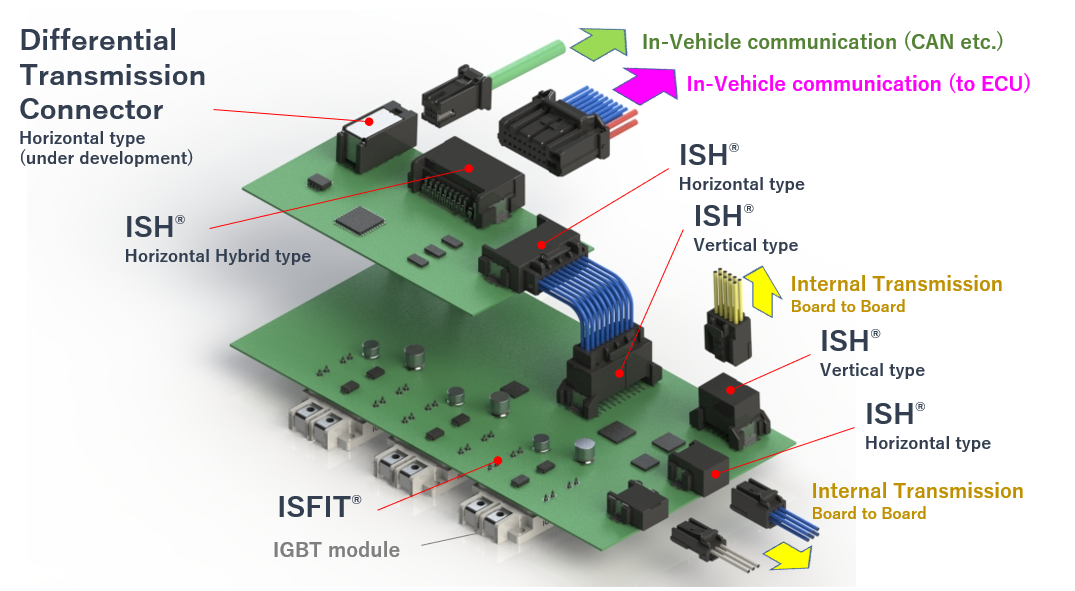 BMS/CMU
---
What is BMS?   
Battery Management System

What is CMU?
Cell Management Unit 
This is used for measuring and monitoring battery status. Lithium-Ion batteries need to be strictly controlled – this system/unit will shut-off power transmission for any abnormal status.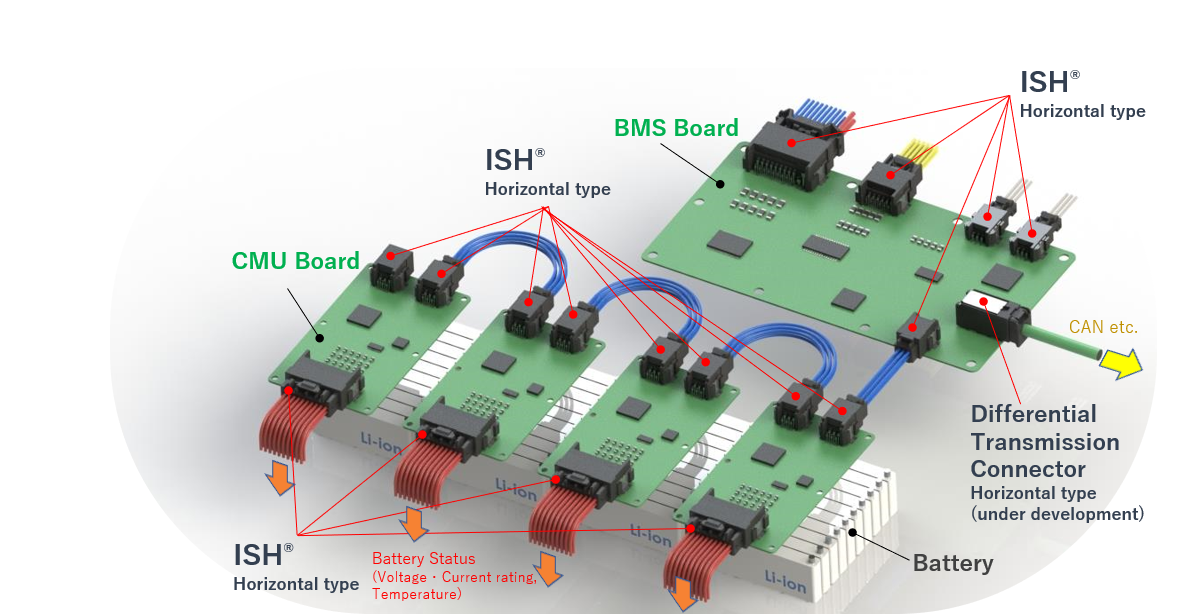 The ISH® series is the best choice for these various automotive modules.
I-PEX's unique spring-structured terminals provide high long-term contact reliability. The connectors also excel in high temperature resistance and vibration resistance and are available in a variety of pole numbers.

Introduction of ISFIT® and ISH® Series
---
ISFIT® (Press-Fit Terminal)
Wire-to-board/board-to-board, 4-points spring contact press-fit terminal

・Unique 4-points spring contact  
・Eliminates damage to PCB  
・Through-hole center alignment
 
ISH® Series
ISH® (Horizontal Type)
High heat and vibration resistant, horizontal, SMT connector

・High heat and strong vibration resistance for high-reliability applications
・Unique embedded spring terminals for long-term stable electrical connection
・Designed for automotive and industrial grade applications
・High heat and strong vibration resistance for high-reliability applications
・Unique embedded spring terminals for long-term stable electrical connection
・LV214 compliant, designed for automotive and industrial grade applications
 
ISH® (Wire-to-Wire Type)


High heat and vibration resistance, wire-to-wire relay connector



・High heat and strong vibration resistance for high-reliability applications
・Unique embedded spring terminals for long term stable electrical connection
・Designed for automotive and industrial grade applications
ISH® (Horizontal Type-Hybrid)
High heat and vibration resistant connector with hybrid (signal + power) terminals

・High heat and strong vibration resistance for high-reliability applications
・Unique embedded spring terminals for long-term stable electrical connection
・Designed for automotive and industrial grade applications

Related article
---

Video
---