Micro-Coaxial Cable Assembly Capabilities
 Structure of Coaxial Cables
---
Cables with a multi-layered structure with a center conductor covered with an insulator layer along with an outer conductor and jacket are called "Coaxial Cables." 

Micro-Coaxial Cables
---
Among those coaxial cables, cables used for high-performance small devices such as notebook PCs, foldable smartphones, and medical equipment are extremely small. In general, those small-size coaxial cables with an outer cable diameter (O.D.) of ~1 mm or less are referred to as "Micro-coaxial Cables."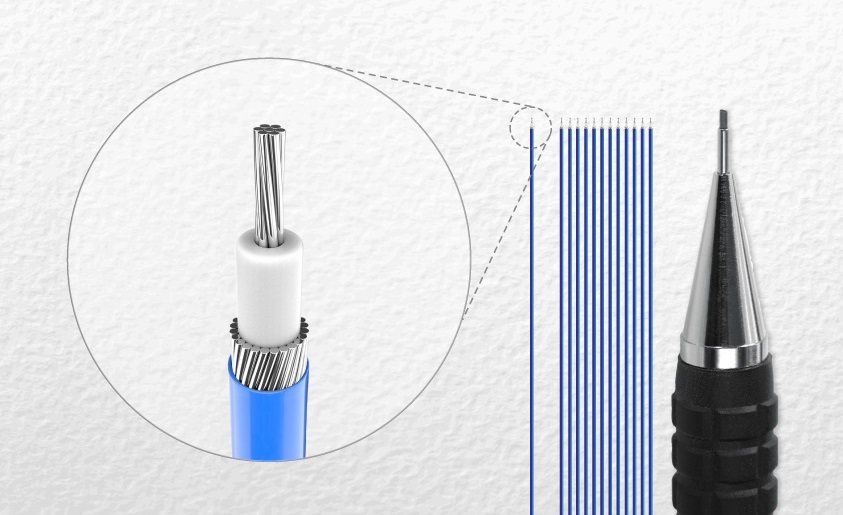 High Flexibility
---
Oftentimes, micro-coaxial cable is used because it has a higher degree of flexibility compared to shielded FPC/FFC and it can stabilize the electrical characteristics even if it is bent.

Excellent Impedance Controllability
---
When a high-speed transmission signal is transmitted through the cable, the electrical signal is reflected in places where the impedance is changed, so it is necessary to keep the impedance as constant as possible in order to suppress disturbance in the signal quality.
The impedance of the micro-coaxial cable can be controlled appropriately by adjusting the distance between the center conductor and the outer conductor, or the insulator material.

Cross-section of micro-coaxial cable
Excellent Shielding Function
---
As the micro-coaxial cable outer conductor plays the role of the electromagnetic shield, it has excellent measures against electromagnetic interference (EMI) that prevents leaking the electromagnetic noise to the outside from the electrical signal transmitted through the center conductor, and it also has excellent measures against electromagnetic susceptibility (EMS) to electromagnetic noise from the outside.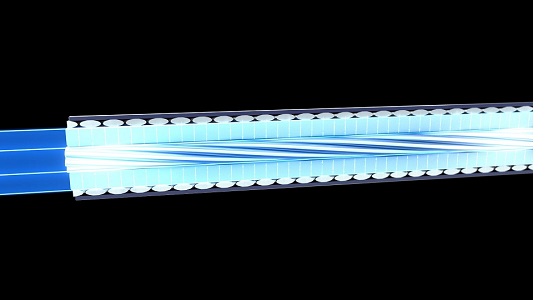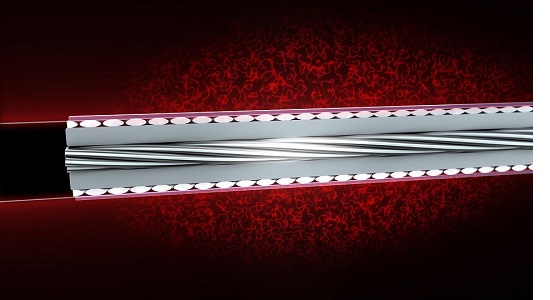 Micro-coaxial Cable Harness Assembly Process
---
It is possible to create small, flexible micro-coaxial cable assemblies that have excellent electrical characteristics by terminating micro-coaxial cables with connectors.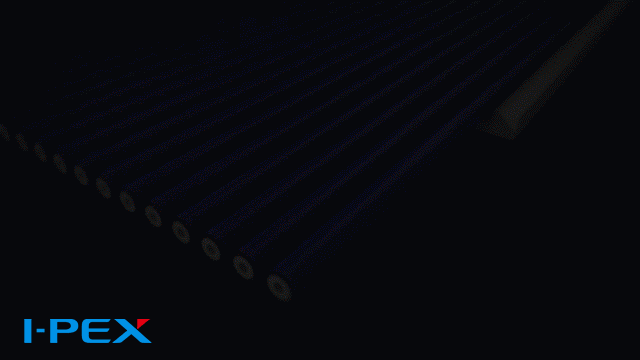 High-Performance EMC Shielding
---
With I-PEX's EMC shielding connectors (ZenShield®), the micro-coaxial cable assemblies can provide significant mitigation of EMI. For this reason, micro-coaxial cable assemblies using the ZenShield® connector series are often used in high-performance electronic devices equipped with wireless communication functions that require countermeasures for intra-system EMC problems.
Learn more about Micro-coaxial connectors: What is Micro-coaxial Connectors?

Product Assembly Process that takes Advantage of High Flexibility
---
Taking advantage of the features of flexible cables, the micro-coaxial cable assemblies are used in various applications such as devices with hinge components that wire has to pass-through, and with narrow and complicated structures that make it difficult to route wiring during assembly.
Related article: Hinge Component Pass-Through with CABLINE® Harness Assemblies

Examples of Suitable Applications
---
Featuring mechanical and signal transmission benefits and advantages of Micro-Coaxial Cable Assemblies. These assemblies are capable of handling high data rates, while providing high degree of flexibility and high shielding performance.
Below are examples of applications that take advantage of the flexibility of micro-coaxial cable assemblies.