New Product Release: I-PEX Active Optical Module LIGHTPASS🄬 Series Adds Two New Products (2023/Aug/3)
The LIGHTPASS® series from I-PEX is a multi-mode active optical module with a silicon photonics IC "IOCore™" which was developed by AIO Core Co., Ltd. that can operate stably in high temperature environments. 
These products enable bi-directional optical communication for the purpose of photoelectric conversion of internal high-speed signals in large data equipment and telecommunication equipment.
To meet the various requirements of our customers, I-PEX offers two new products, LIGHTPASS®-EOB II 128G and LIGHTPASS®-EOS 100G, to match the actual operating environment in data center applications.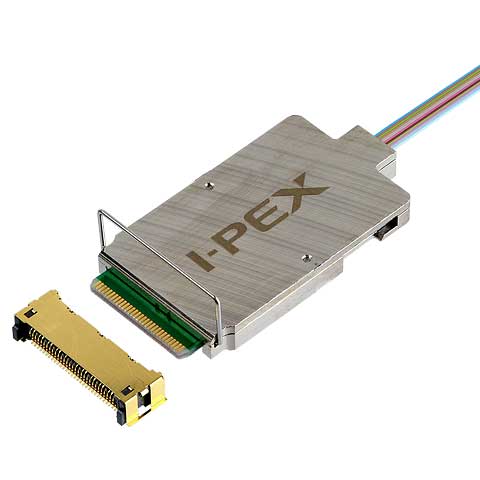 Our connector, at just 18.60 mm, enables a narrow space-saving design for mounting on M.2 cards and other devices. It also operates on a single-supply power of 3.3 V. The transmission speed has been increased to 128 Gbps (32 Gbps NRZ x 4 channels) to support PCIe Gen5.
Taking advantage of its excellent heat dissipation, this product is intended for use in the internal transmission of data equipment such as NIC (Network Interface Card), in telecom equipment such as base stations that require high-temperature operation, and in aerospace applications that require weight reduction, such as in airplane cabin wiring.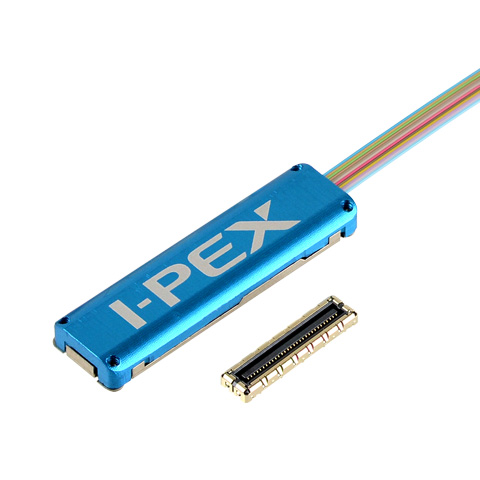 The stick-shaped body on this connector enables mounting on narrow medical devices such as robot arms and endoscopes, where mounting points are limited, as well as on industrial devices where multiple units need to be mounted. In addition, as with the LIGHTPASS®-EOB II 128G, only a single 3.3V power supply is needed.
And, autoclave compatibility is planned as an added feature for this product.
By using silicon photonics IC optical "IOCore™"  from AIO Core and QD-LDs as the light source, these two products provide excellent features in terms of long-term reliability in high-temperature environments.
Comparison with current product
Product Name
LIGHTPASS®-EOM 100G
LIGHTPASS®-EOB 100G
LIGHTPASS®-EOB II 128G
LIGHTPASS®-EOS 100G
Size (W,D,H) 
(mm)
14.0 x 12.0 x 8.6
29.75 x 29.01 x 2.3
18.6 x 36.3 x 3.8
8.4 x 34.8 x 4.6
Channel Capacity
100 Gbps
(25 Gbps x 4 ch)
100 Gbps
(25 Gbps x 4 ch)
128 Gbps
(32 Gbps x 4 ch)
100 Gbps
(25 Gbps x 4 ch)
Power Sources
(V)
0.9, 1.0, 3.3
0.9, 1.0, 3.3
3.3
3.3
Operating Case Temperature
(℃)
-40 ~ 85
-40 ~ 85 (105)
-40 ~ 85 (105)
-40 ~ 85
Micro Controller Unit
×
✓
✓
✓
Mechanical lock
×
✓
✓
×
Mass Production: second half of 2024
Samples and Evaluation Kit: September of 2023 
These two models will be demonstrated at the ECOC Exhibition in the UK in October 2023.
About AIO Core Co., Ltd. and "IOCore™"
---
AIO Core Co., Ltd. is the first Incorporation-type divided company under an approval of the Ministry of Economy, Trade and Industry (METI). AIO Core has inherited the intellectual property rights along with some parts of technology from Photonics Electronics Technology Research Association (PETRA) and was newly divided from the organization.  This development was accomplished by PETRA under the trust from New Energy and Industrial Technology Development Organization (NEDO). The IOCore™ mass-produced by AIO Core has a feature of 5 mm square with an optical transceiver chip manufactured with "Silicon Photonics technology" which is to form optical elements on silicon board. It has the transfer rate of 100 Gbps (25 Gbps x 4 ch) and 128 Gbps (32 Gbps x 4 ch).