ESTORQ® and ES-Gripper® (2020/Jun/25)
I-PEX Torque Sensor and Gripper Help Eliminate Errors in Factories
---
I-PEX has integrated the technologies of our ESTORQ® Torque Sensor and the ES-Gripper® to help eliminate human errors on the factory floor by using automatic insertion of connectors. This helps reduce rework, saving both time and money.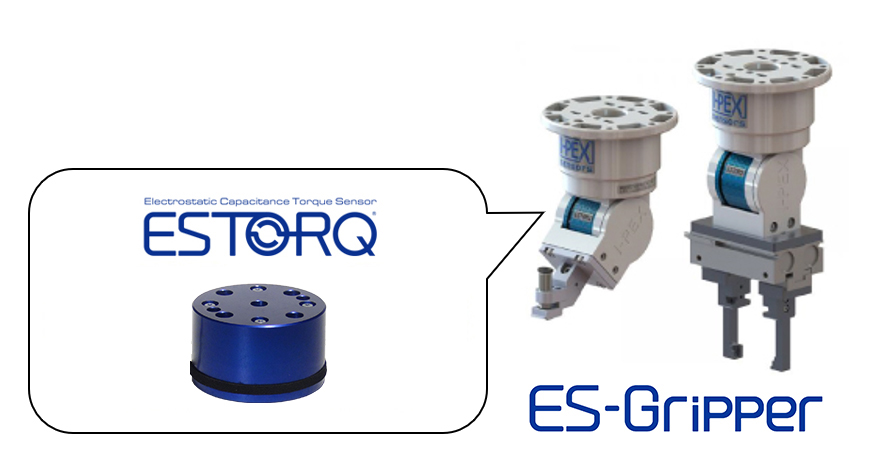 Product information
---
The ESTORQ® Sensor was designed to detect and control torque being generated by the revolving motion of different kinds of robots and automated assembly machines. Its main feature is to detect external force and automatically stop when the robot senses interference. This helps robots and humans to work side-by-side without fear of being harmed by a moving robotic arm.
Compared to a conventional torque sensor, ESTORQ® is much smaller and lighter, making it easier to be placed in a robot's joints. By using a simple construction, our sensor reduces the number of parts, helping to lower the cost, while giving factory automation designers the freedom to design according to their needs. ESTORQ® Sensors can be designed with duplex circuits to acquire safety verification (ISO 10218).
The ESTORQ® Sensor is integrated into the ES-Gripper® and was developed for automatic mating of connectors, while auto-adjusting for precise insertion alignment in robotics assembly. The ES-Gripper® detects connector insertion force and has a software component to track mating force. This Gripper can handle different types of connector series, such as FPC/FFC connectors, wire-to-board, board-to-board, and any other connector types by using a custom attached head design.
More Information
---