Answering the Demand for Smart Car Connectivity
Today's drivers are demanding Smart Car connectivity like never before. This demand has industry leaders investing heavily in Internet of Things (IoT) technologies to advance Smart Car connectivity at an astounding rate. In fact, Business Insider estimates the automotive industry will ship 94 million connected cars in 2021. This figure, which represents 82% of the industry, says a lot about the demand by today's drivers for this rapidly evolving technology.
Currently, Smart Car connectivity occurs in two ways. Embedded cars utilize a built-in radio and antenna connecting to local cellular networks, while tethered cars use a wireless connected device, typically a cell phone, to provide the data connectivity. This is done via Bluetooth® or a USB cable.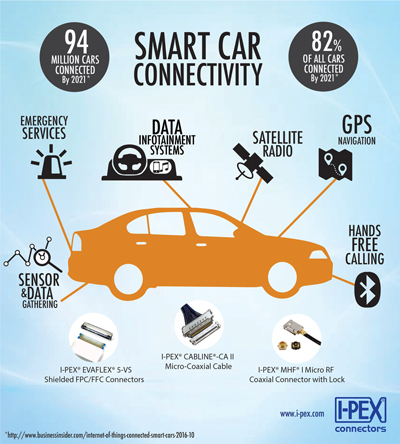 In addition to data connectivity, cars have GPS for navigation and emergency services, satellite radio (Sirius), hands-free calling, sensor and data gathering, as well as key-less entry and start. Some of these system like tire-pressure monitoring, can utilize an embedded or board-level antenna. Others, like emergency services or data-intensive systems like navigation or satellite radio require an external, application-specific antenna.

Despite these highly varied requirements, I-PEX Connectors is able to offer a robust and diverse product offering to suit critical RF interconnectivity needs for all of these systems thanks to I-PEX's patented iFit® MHF® Micro RF Coaxial Connector Series.

The MHF family of connectors provides automotive OEM module manufacturers a reliable and right-sized solution for their
RF needs. While the frequency ranges from DC to 15 GHz (MHF® 5L), the majority of the frequencies used in automotive, DC to 6 GHz, can be realized with the MHF I family. In addition to a mated board height maximum of 2.5 mm (1.8 mm OD wire) to 3 mm (2.0 mm OD wire), the MHF® I Connector offers the most versatility in choosing the right cable for your application.

Repeatability and consistency are critical to ensuring device operation. The MHF® Series consistently has a 1.3 VSWR max from DC-3 GHz and a 1.5 VSWR max from 3-6 GHz. To assist with durability, I-PEX offers a 4-pad layout in addition to the 3-pad configuration.
The engineers at I-PEX Connectors have designed automotive applications to handle the unique problems that stationary RF systems do not encounter, particularly shock and vibration. Cars are in motion, roads are uneven, and this generates mechanical harmonics that could cause connectors to disengage over time.
To deal with these issues, I-PEX Connectors has engineered products like the MHF® I LK Connector system introduced in 2017.
This innovative solution will be available in cable sizes (0.81 mm OD, 1.13 mm OD, 1.32 mm OD, 1.37 mm OD and 1.80 mm OD) to suit various insertion loss and cable length needs. Additionally, the initial mating disengagement force of 20 N min outperforms the standard MHF® I Connector Series of 5 N min. Even at 30 cycles, the MHF® I LK, at 10 N min, performs better than the MHF® I, at 3 N min.
For more information and to help determine which I-PEX Connector is compatible with your system's needs, contact us.