Power Connectors and Power Terminals

Contents
---
I-PEX® : Solderless press-fit terminal
ISFIT® Eliminates Damage to PCB
ISFIT® Requires Less Insertion Force
ISFIT® terminal lineup
Power Connectors and Power Terminals
I-PEX® : Solderless press-fit terminal
---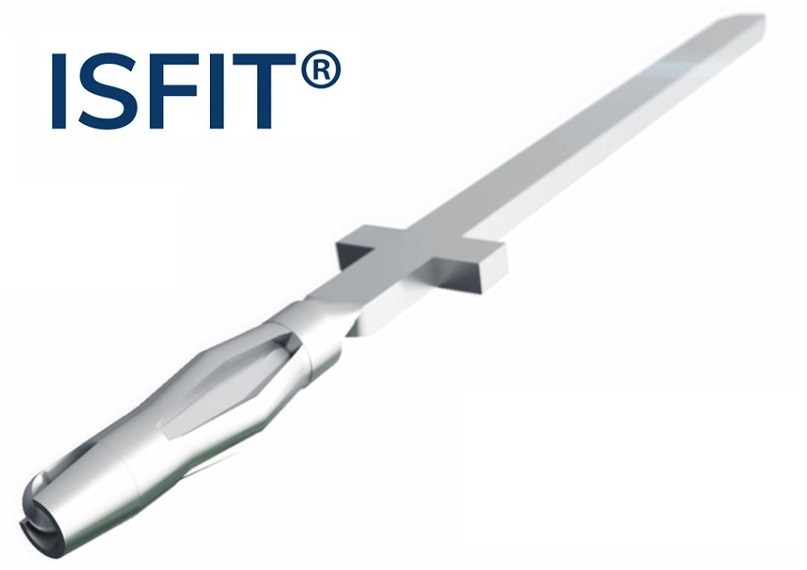 Solderless press-fit type connectors are commonly used in the PCB based assembly process. Whereas conventional connectors are soldered directly on the board, press-fit connectors can be mounted using a simple press-fit method, which simplifies the process. This reduces manufacturing costs by eliminating the solder mounting process.

However, the press-fit method could cause damage to the PCB and requires great press force for mounting. In order to solve these problems, I-PEX offers a completely new concept terminal: the  ISFIT®series.
ISFIT® Eliminates Damage to PCB
---
Our unique terminal design with the spring structure eliminates the damage to the PCB during the insertion process.
The conventional eye of the needle type terminal without the spring structure causes damage to the PCB
through-hole edge, as well as the inside wall.

(comparison: Through-hole edge)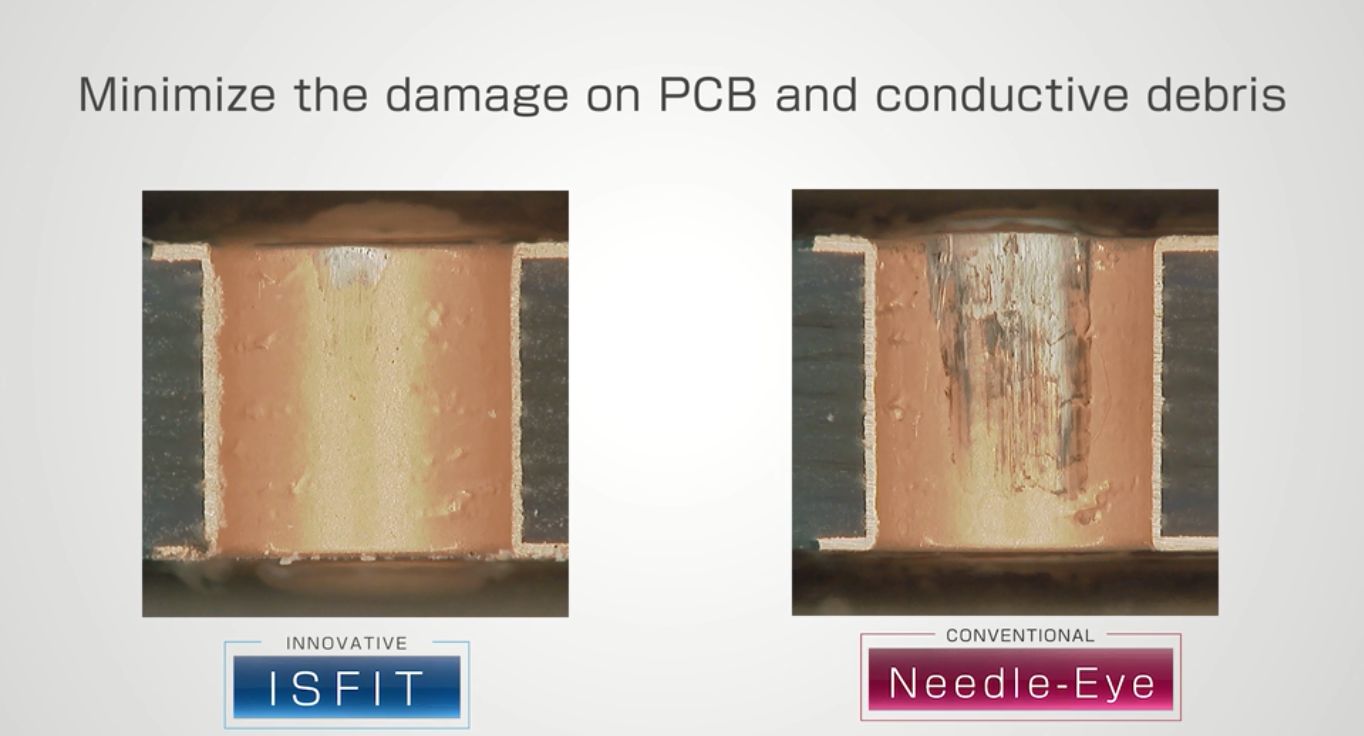 (comparison: Through-hole inside)
ISFIT® Requires Less Insertion Force
---
The ISFIT® spring structure terminals absorb the insertion force during the insertion process. It lessens the coefficient of friction compared to the eye of the needle version, keeping the insertion force lower from start to finish.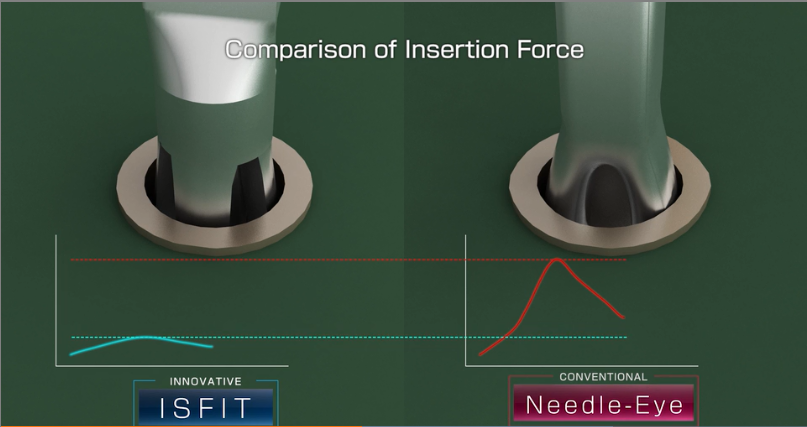 ISFIT® terminal lineup
---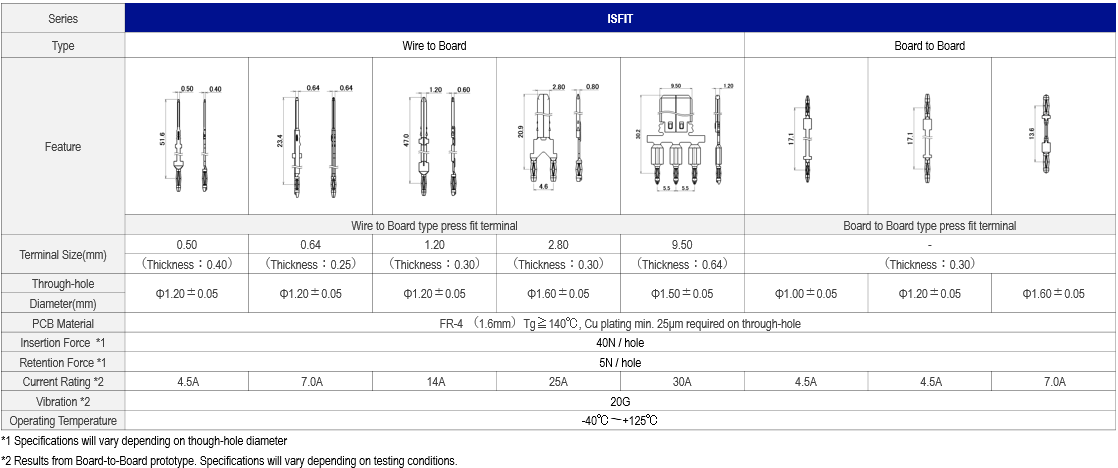 Learn more about the ISFIT® Solderless Compliant Pin Terminal / Press-Fit Connector Technology.
ISFIT® Solderless Compliant Pin Terminal Video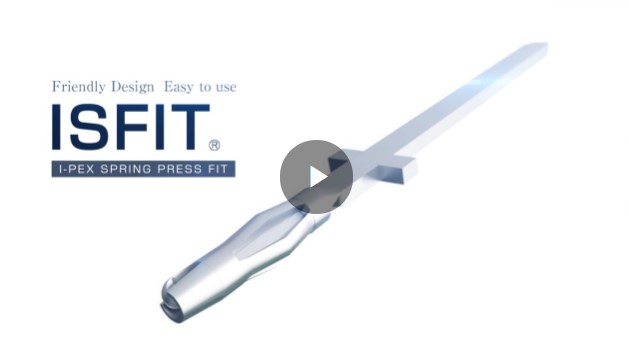 Power Connectors and Power Terminals
---
I-PEX high-current board-to-board power supply terminals offer a compact design with floating features and high temperature capability for automotive components and applications.
Features of I-PEX Board-to-Board Power Terminals
Compact, high current and high-temperature operation
Contributes to simplification of work efficiency and reduction in the number of parts with a one-action mating function
Contributes to reduction of assembly hours and achieves total cost advantages over the conventional bus bar connection method
Why select I-PEX Board-to-Board Power Terminals for Automotive Components and Applications?
Our original know-how has been utilized to create compact products capable of handling high currents.
The product design withstands the temperature rise that accompanies a large current flow, thus ensuring reliable performance, even with long-term use. 

High temperature Operation Test (Contact Resistance)
Test condition: 105 ℃ (378 K)
Rate current:16 A
Test time: 1000 h
Temperature Cycling Test (contact resistance)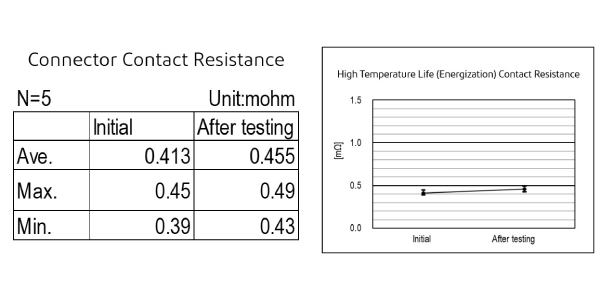 Temperature Cycling Test (Contact Resistance)
Test condition: 
-40 ℃ (233 K)  ⇔ 105 ℃ (378 K)
30 mins                30 mins
Test Time : 1000 Cycle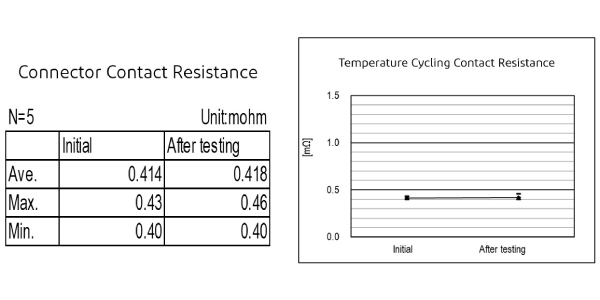 The AP-10 reduces the board space needed compared for the conventional bus bar connection method.
And, the one-touch mating function simplifies assembly efficiency and reduces the number of connection parts.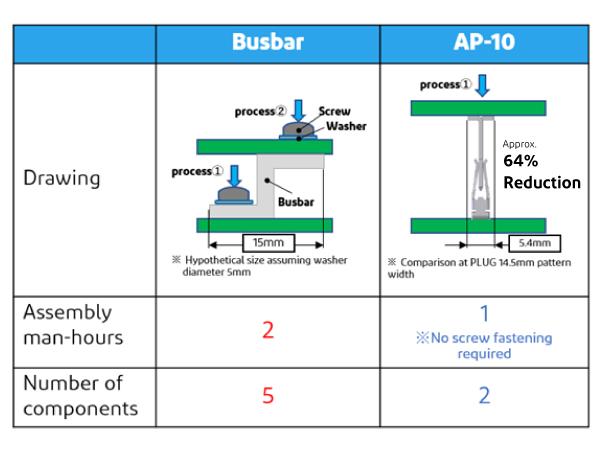 Excellent floating performance and reduced solder stress is achieved by the receptacle's pronged structure.
Multiple units on the same board may be used, contributing to a reduction in assembly hours.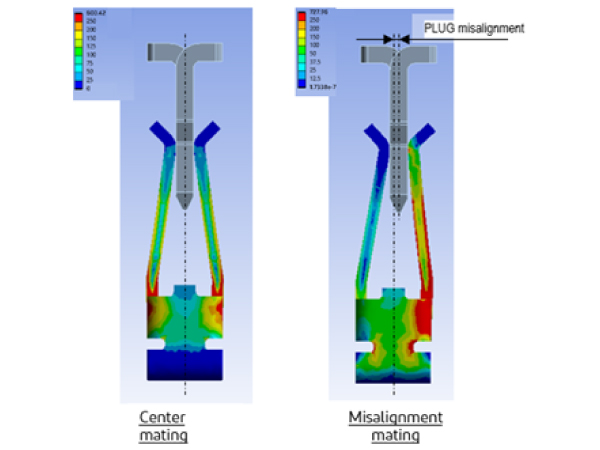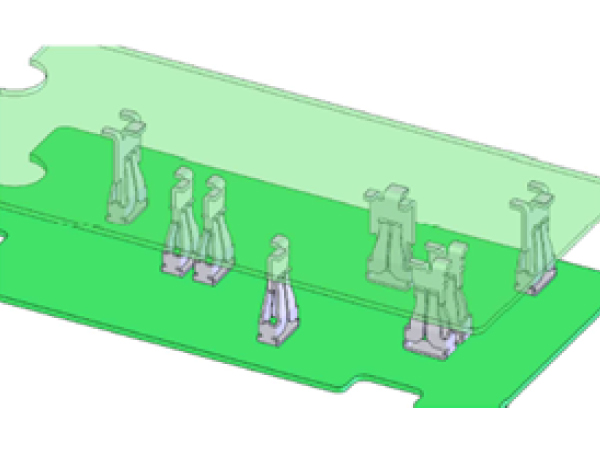 Receptacle prongs insert correctly, even if the plug is out of alignment.
And, even with a  misalignment allowance of 0.55 mm (X-axis) / 0.70 mm (Y-axis), good contact reliability is still ensured.
The features described above all contribute to total cost reduction of in-vehicle components/applications.
More information: https://www.i-pex.com/product/ap-10
 
Connectors on demand
---
I-PEX offers customized connectors using the ISFIT® terminal upon request. Please contact us for details.