EVAFLEX 5 Comply with V-by-One® US Specification (2018/Jun/18)

THine Electronics has established V-by-One® US
---
THine Electronics has established V-by-One® US technical specification as next-generation high-speed interface technology that follows their high-speed interface technology V-by-One® HS, which is the de facto standard inside most 4K TV's throughout the world.  The V-by-One® US technical specification specifies high-speed transmission of 16 Gbps at a maximum per lane, which is four times as fast as V-by-one HS. In order to develop 8K video transmission lines, by using V-by-One US, the customer can maintain the number of lanes for transmission the same as current 4K video transmission lines by using V-by-One HS. 8K video signal is x4 volume of 4K, but V-by-One US is x4 faster than HS, so the number of lanes will be same. If the customer uses V-by-One HS for 8K, they need x4 lane numbers.
EVAFLEX® 5
---
The EVAFLEX®5, with impedance-matched shielded FFC and interfaced with V-by-one® HS, has already been adopted by many customers. EVAFLEX 5 has also now been confirmed by THine Electronics' technical specification for high-resolution video image and next-generation high-speed interface standard V-by-One® US. Conformable EVAFLEX 5 for V-by-One® US has the following features:
 
Smooth transitioning for high-resolution video image. EVAFLEX 5 is installed in V-by-One® HS and has been used in the market as the de facto standard. EVAFLEX 5 is also now applicable for high-speed V-by-One® US so that operators who are building video devices don't need to change physical designs on the board to switch high-resolution installations.
Remarkable EMI / EMC prevention performance EVAFLEX 5 has a metal cover terminal for connecting shielded FFC that significantly prevents EMI/EMC.
Cost-effective solution V-by-One® US technology not only reduces necessary cable line for transmission, but EVAFLEX 5 is also a one-piece connector and has a one-action-mating feature that just inserts the shielded FFC into the slot. Moreover, EVAFLEX 5's characteristic mechanical auto-locking function facilitates a smooth release of the FFC that yields high productivity.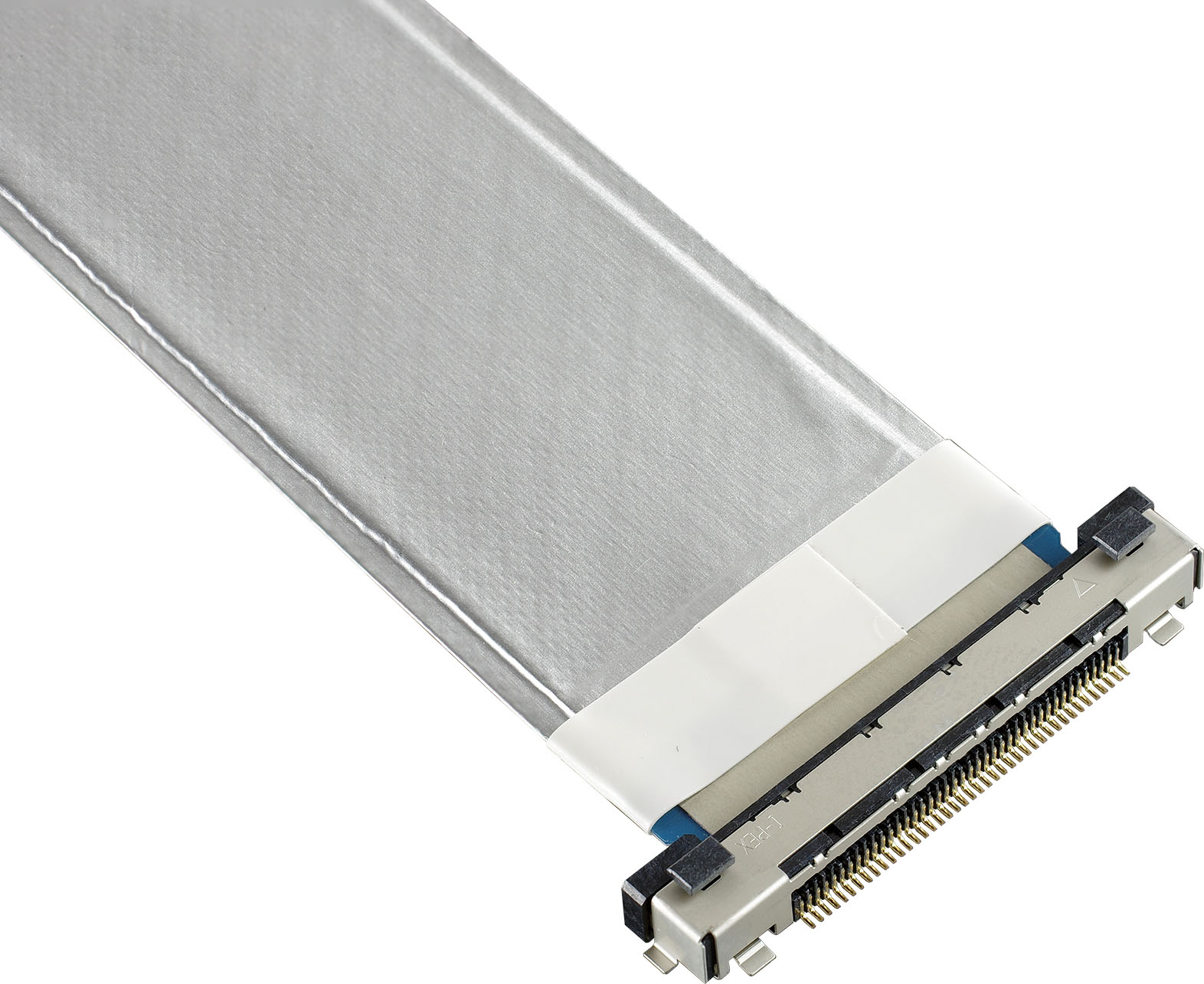 ---
* "V-by-One" is a registered trademark of THine Electronics, Inc.
Contact us for more information.