Introducing I-PEX's New Power Supply Terminal Connector AP-10

In recent years, the automotive industry has gone through a huge transformation, which is being driven by the four elements of CASE: Connected, Autonomous, Shared & Service, and Electrification. Among these four elements, the "electrification" of automobiles is progressing rapidly. Automotive trends are replacing vehicles from fuel-powered engines to EVs (electric vehicles) powered by "Battery+Motor". There are two major factors behind the shifting fuel-powered engines to EV-powered: 1) Tighter regulations due to environmental considerations in various countries; and 2) National policies for industrial education. In countries where air pollution is serious, such as China and India, electrification is seen as one solution, and regulations are being tightened, with preferential treatment being given to EVs. In Europe, preferential treatment for EVs is also being offered in some countries as a measure to combat global warming. 
EVs/PHEVs (plug-in hybrid EV) are equipped with an on-board charger for a battery charging device. The on-board chargers are required to have higher output to complete charging of large-capacity batteries in a shorter time in order to extend the vehicle cruising range. In addition, new parts such as batteries, chargers, inverters, converters, and other electrification components have been installed in spaces previously occupied by mechanical parts, and these parts must now be smaller with a higher density. I-PEX is introducing a miniaturized high current (16A) board-to-board power terminal connector that was developed for in-vehicle chargers, inverters, and converters that can handle high currents and high temperatures. In spite of its small size, the use of a high-conductive copper alloy with excellent heat resistance makes it possible to handle a rated current of 16A. In addition, the unique spring/prong and floating function allow for insertion misalignment when mating the connector, and the design ensures contact reliability. The features of the AP-10 connector, which can be used for various applications in vehicles, addition to the above applications, are below.
Table of Contents
Board-to-board connector that can handle a high current in spite of its compact size
Compared to traditional connection methods, such as using busbars which requires large mounting space on PCB, this highly efficient connector can carry a large current while having the smallest mounting space on the PCB. The primary advantage of changing from busbars to the connectors is a reduction in the number of component parts. For example, using connectors reduces the number of parts compared to busbar connections (busbar + screws). The second advantage is improved workability. By changing the connection points to connectors (SMT), instead of soldering or screwing to the board and terminals (which has been widely used in the past), it simplifies assembly work, reduces man-hours for maintenance, reduces tact time through automation, and ultimately contributes to overall cost reductions.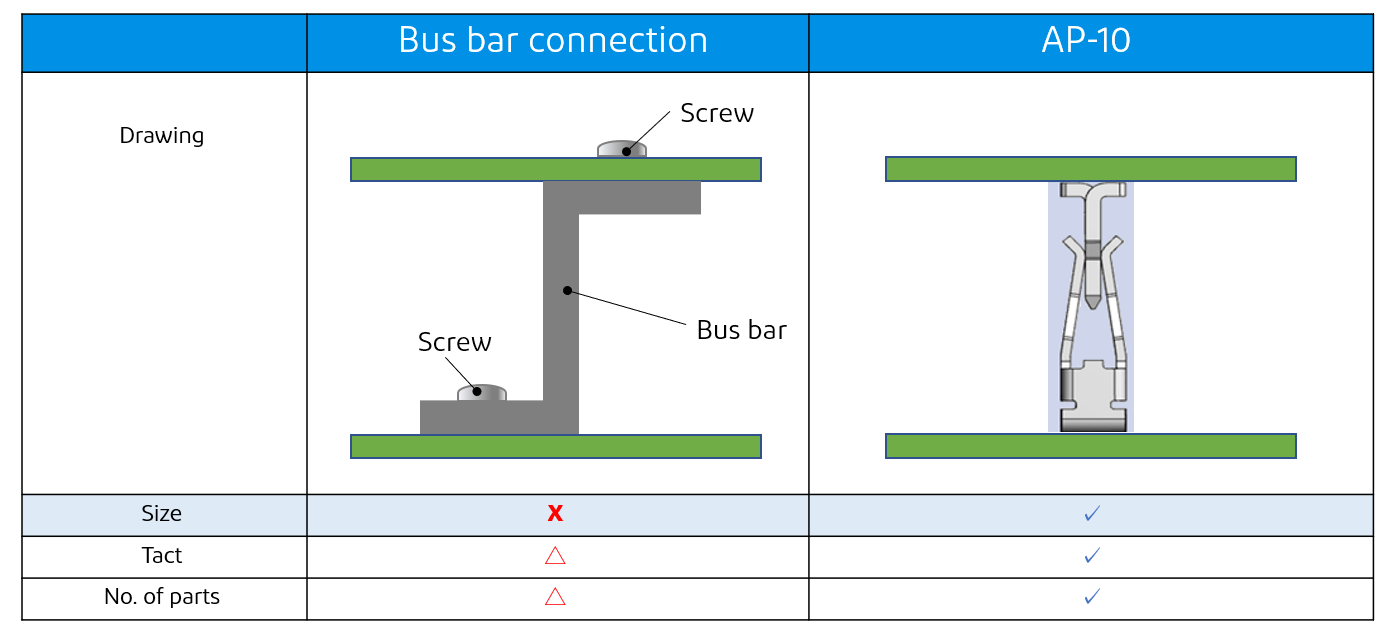 Floating performance for insertion misalignment during mating
A plug-type connector and a receptacle-type connector are placed on opposite sides of the board to be connected by surface mounting, and the boards are connected by mating the respective connectors when they are mounted on the board. Generally, connectors that carry a large current inevitably have larger dimensions and are heavier because of the large current capacity. In comparison, the AP-10 is a compact and lightweight connector with maximum dimensions of 7.60 mm x 5.20 mm and weight of 0.5g. By adopting a spring/prong design into the connector that further reduces solder stress, we have succeeded in reducing the stress on solder parts during floating.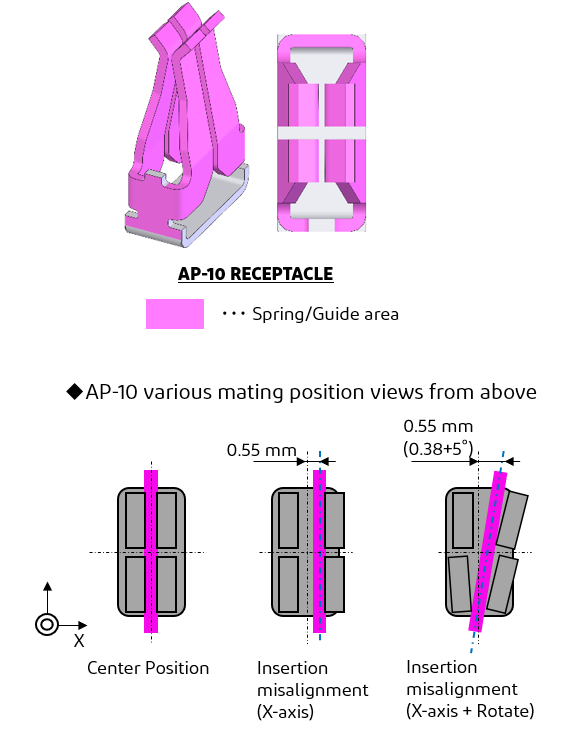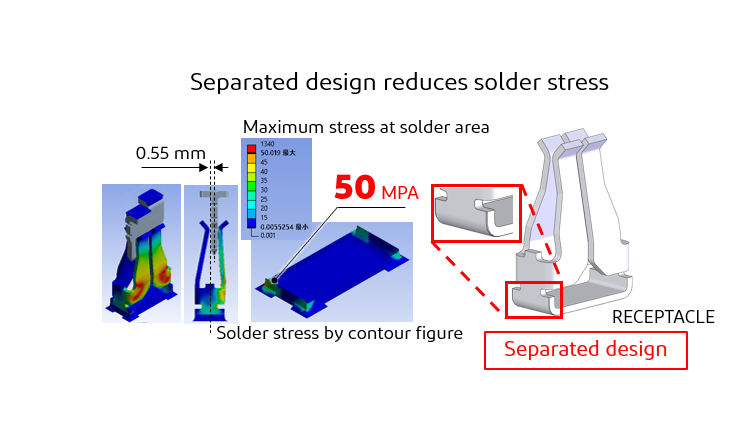 Heat resistance is ideal for automotive and industrial equipment
The AP-10  excels in high heat and vibration resistance, which are important factors for automotive and industrial equipment, and it demonstrates stable performance even in harsh environments.

Low insertion force for multiple use and high density
Due to its low insertion force, the AP-10 does not require much force even when multiple sets are mounted on a single board and mated at once. Also, since multiple sets can be mated on the PCB board at once, it simplifies the assembly process and contributes to improved productivity.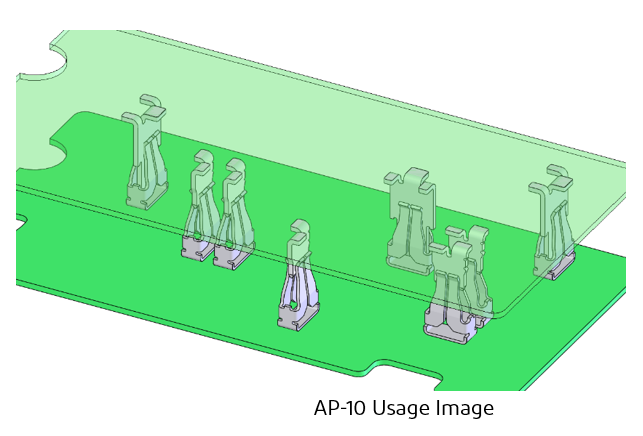 Customized plug connectors with different heights and customization
Different heights of plug connectors allows for more flexibility in designing the space between boards (multi-layering). I-PEX uses customer input during the design stage, and then proposes optimal shapes of the connectors to meet their performance requirements.

As described above, the AP-10 is a compact, high-current board-to-board terminal designed for in-vehicle equipment.
By adopting the AP-10, you can:
Reduce man hours, save the space and reduce the total cost of components (compared to traditional connection methods) 
Have design flexibility and simplification of the PCB by having this multiple sets on the same board. This contributes to improvement of assembly workability, board layout, and circuit design
Ensure safe and reliable use, even in harsh environments, due to long-term reliability  verification
Have freedom in designing the space between the boards (multi-layering) using customized products
Reference: 
16 amp high-power supply terminal for board-to-board connection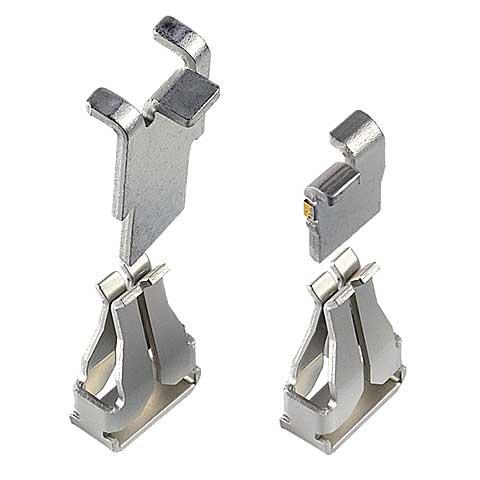 High current and temperature resistance, board to board power supply terminal
Contribute space saving design on PCB achieved by miniaturization of connector
Dealing with custom made design