Optical Module: LIGHTPASS® series

LIGHTPASS® series
LIGHTPASS® is a series of multi-channel ultra-compact and thin optical module products designed for onboard optical applications. By enabling bidirectional optical communication (E-to-O, O-to-E), the electrical transmission length can be shortened, and the transmission loss can be significantly reduced. In addition, 
LIGHTPASS® products have a wide operating temperature range. This feature ensures stable performance in areas where they are expected to be used in high-temperature environments, such as autoclave-compatible endoscope cameras, communication base stations, in-vehicle cameras, and LiDAR.
Stability in high temperature operation
Flexible optical fiber assemblies
The LIGHTPASS® series are available in two variants: a model with a microcontroller, and a model without a microcontroller, which supports high-density designs by shrinking the PCB footprint.
Product Name

*LIGHTPASS®-EOB II 128G

*LIGHTPASS®-EOS 100G

Appearance

Size (W,D,H)(mm) 

18.6 x 36.3 x 3.8

8.4 x 34.8 x 4.6

14.0 x 12.0 x 8.6

29.75 x 29.01 x 2.3

Channel Capacity

128 Gbps 
(32 Gbps x 4 ch)

100 Gbps 
(25 Gbps x 4 ch)

100 Gbps 
(25 Gbps x 4 ch)

100 Gbps 
(25 Gbps x 4 ch)

Power(V)

3.3

3.3

0.9, 1.0, 3.3

0.9, 1.0, 3.3

Operating Case/Temp.(℃)

-40 ~ 85 (105)

-40 ~ 85

-40 ~ 85

-40 ~ 85 (105)

Micro Controller Unit

✓

✓

×

✓

Mechanical Lock

✓

×

×

✓
*Mass production: second half of 2024.
LIGHTPASS® series use a quantum dot laser diode (QD-LD) as their light source, which can maintain high output power even when operating at high temperatures.
Compared to the quantum well laser diode (QW-LD) type of VCSEL, the QD-LD has a lower transfer energy of electrons confined in quantum dots, resulting in less state change (energy consumption) even under temperature changes, which dramatically improves temperature resistance characteristics and energy efficiency.
In addition to the characteristics of QD-LDs, LIGHTPASS® products are designed with heat dissipation in mind. This enables stable high-speed transmission performance even in harsh environments with temperature fluctuations.
<QD Laser(Quantum dot type)>

QD-LDs employing quantum dots in the active layer.
Since the movement of electrons due to temperature change is limited, the change of state due to temperature change can be drastically reduced, which dramatically improves energy efficiency and enables performance even at high temperatures.
<VCSEL(Quantum well type)>
Conventional type in which electrons (red dots) are confined in the active layer in one dimension. Characteristics deteriorate at high temperatures because the movement of electrons increases with temperature change.
Optical transmission has better noise immunity than electrical transmission. Since it is virtually immune to external noise effects, transmission attenuation over distance is nearly eliminated, giving it a reach advantage over copper wire solutions. Noise immunity is useful in applications such as medical equipment and test systems.
Compared to electrical transmission, optical transmission has no attenuation due to the absence of noise effects, resulting in an overwhelming advantage in terms of transmission distance and transmission capacity. In addition, optical fiber enables greater throughput and is considerably more lightweight compared to electrical transmission at the same data rate. This is an advantage in aircraft systems, video broadcasting equipment, and other applications.
In applications where long-distance transmission is required, or severe conditions (such as noise effects) cannot be handled by copper cables, the combination of small LIGHTPASS® modules and flexible fiber optic assemblies enables high-capacity optical transmission by maximizing the characteristics of light.
| | | |
| --- | --- | --- |
| Optical characteristics are important for high-capacity transmission over long distances between antennas and devices in each unit in base station facilities. |   | In the medical field, it is required to connect the surgeon's console, monitor, and endoscope devices for immediate live video confirmation. LIGHTPASS®, a compact module, makes it possible to realize the features of light, which is free from noise and can be connected over long distances. |
LIGHTPASS® is the world's smallest class of ultra-compact optical transceiver engines (5 mm square chip manufactured by AIO Core) that utilizes silicon photonics technology to form optical elements on a substrate, creating a compact package. Furthermore, the height of the optical fiber block is reduced by applying a diagonal-cut fiber array, resulting in a low-profile, space-saving design for the module. Compared to copper wire, optical fiber is up to 90% smaller in cross-sectional area and up to 50% lighter. Optical fiber is one of the best solutions for applications that require high transmission speeds but at the same time are weight and space sensitive.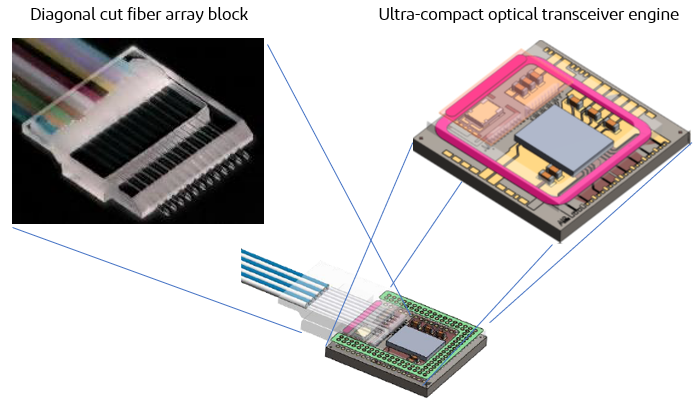 LIGHTPASS® optical modules can be used in a variety of applications, taking advantage of their characteristics, such as small size, low profile, low noise, long-distance transmission, and high operating temperature range. For example, LIGHTPASS®-EOS 100G modules can be used in autoclave-compatible medical equipment, where it is important to be compact, high-temperature compatible, and have low noise. LIGHTPASS®-EOB II 128G modules can be used in PCle Gen 5-compatible broadcast equipment, base stations in harsh environments, and aircraft applications, where even a slight weight reduction is extremely beneficial. The LIGHTPASS® products shine in these areas!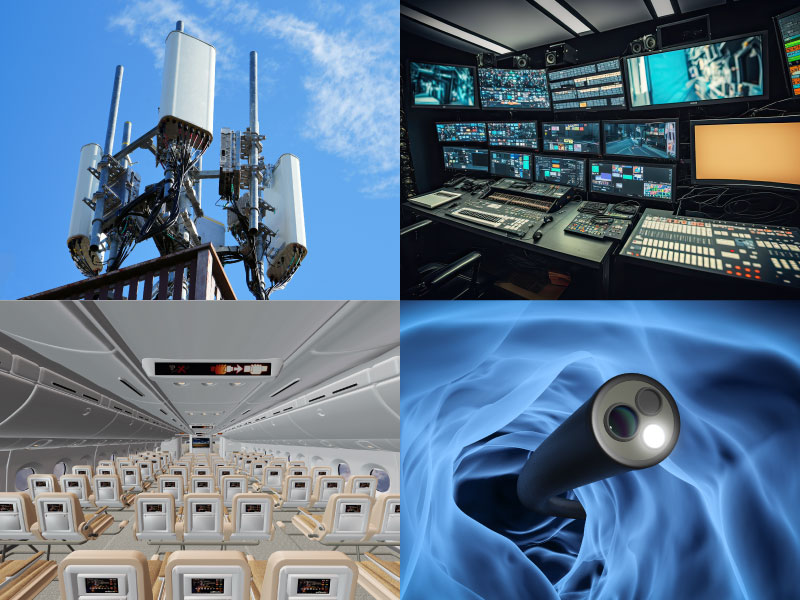 Contact us for more information.
About AIO Core, Ltd. And "IOCore™"
AIO Core Co., Ltd. is the first Incorporation-type divided company under an approval of the Ministry of Economy, Trade and Industry (METI). AIO Core has inherited the intellectual property rights along with some parts of technology from Photonics Electronics Technology Research Association (PETRA) and was newly divided from the organization.  This development was accomplished by PETRA under the trust from New Energy and Industrial Technology Development Organization (NEDO). The IOCore™ mass-produced by AIO Core has a feature of 5 mm square with an optical transceiver chip manufactured with "Silicon Photonics technology" which is to form optical elements on silicon board. It has the transfer rate of 100 Gbps (25 Gbps x 4 ch) and 128 Gbps (32 Gbps x 4 ch).
 
New Product Release: I-PEX Active Optical Module LIGHTPASS🄬 Series Adds Two New Products (2023/Aug/3)
Active Optical Modules LIGHTPASS® Series